Work completion certificate is an official and formal document which is presented by a project manager to the contractor assigned to the project at its completion. The objective behind the use of the certificate is to attest that the certain contractor has completed the desired work of the whole project as per the terms and conditions decided and in the prescribed time as well.
This certificate generally provides the basic information about the project like the date of the starting day of the project, the name of both the parties, completion date along with the amount of money decided among the parties. The property owners or the customers usually appreciate the presentation of this construction work completion certificate as because of it, they can check the work completed and make the payment of the amount decided.
In other words, this construction work completion certificate can be used for several reasons. One of which is that a contractor may sign it to announce that the work is finally completed and that he should get full payment from the client as it was decided among the parties at the start.
It is also used by the building societies and banks when they are to sell newly build a building. However, this excellent tool is not confined to one particular field only, rather it can be used in almost all the fields of professional life. Any organization can use this certificate if they wish to encourage the employees at the end of the project, they can simply make the use of this certificate in the best possible way. For this purpose, it is recommended to use a template.
This will not only save time and energy of the user but will ensure that a certain and professional pattern of this certificate is followed by him. This template ensures that the user does not have to draft a certificate, but just simply make a few changes in a ready-made format to use it. Once all the necessary work has been completed and the completion certificate is drafted and signed off by the parties, the user can simply sit back and relax.
Preview and Details of Template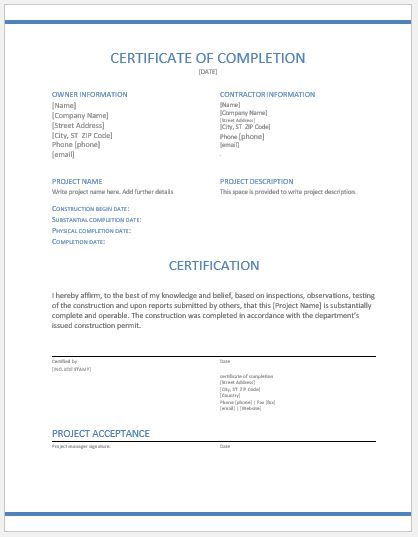 Template
File: Word (.doc) 2003+ and iPad 
Size 33 Kb | Download
License: ENERGY [Personal Use Only]
---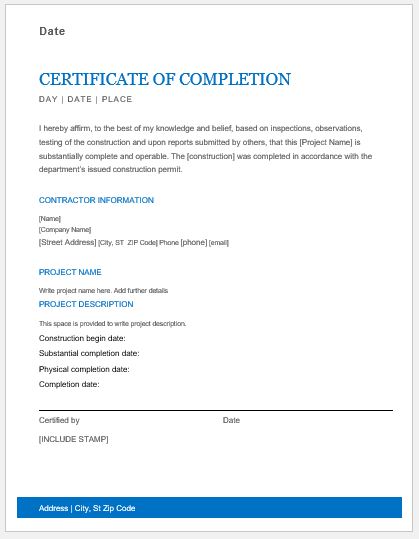 Work Completion Certificate
File: Word (.doc) 2003+ and iPad 
Size 33 Kb | Download
License: ENERGY [Personal Use Only]