A remittance advice slip is a document or letter which is sent by the customer to a supplier. This is usually used to inform the supplier that the invoice has been paid. A remittance advice slip is a well-known document which typically provides information or explanation regarding reasons of payment, its adjustments, and any uncovered charges or claims.
This document is majorly sent by the customer to the supplier of a product or a service informing the supplier about the details of the payment of the invoice. In a day to day business practice, a remittance advice typically comes alongside the cheque. It is attached with the cheque. These slips can be used for audit purposes too. In the modern world and business, this slip is not considered mandatory, but it is considered wise to include it in as the accounts receivable department can then easily match the invoices with payments. Other uses of this slip that it makes it a lot easier to track the purchased item in transit. It has all the required details of the buyer, seller, and the item so it works as a helping tool sometimes.
Template
Although different software present in this world of technology can easily provide a template for remittance advice, it would be wise to have a printable slip and the user can edit it anytime he wishes. In the standard form of remittance advice slip, the left top corner should be allocated to the name and address of the seller, in the middle top head date should be mentioned, while on the right-hand side, the name and address of the buyer should be clearly mentioned. This slip can be drafted in a tabular form or in columns. In any case, the first column should mention the date of the transaction. The second one should be allocated to the invoice number. Make sure the invoice number is written very carefully. While the third column should have the amount against the invoice number. At the end, a total should be written and a line should be written at the end as to when the payment will be made.
Preview & Details of Template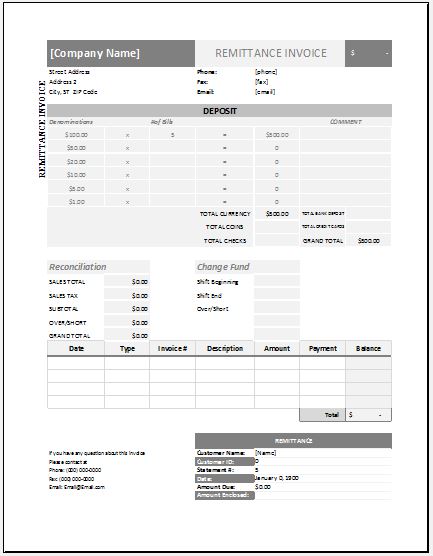 Remittance Advice Template
File: Excel (.xls) 2003+ and iPad
Size 41 Kb | Download
License ENERGY [Personal Use Only]
[Not for resale & distribution]