Creativity is limitless and so are the means to put your creativity into practice. Once such mean is the paper. Whether you are an artist, a painter, a sketching expert, a calligrapher or a writer, the only piece that you need to impose your art is the paper. Lined, graphs and dotted papers are widely used on the global scale. People give equal importance to each of them but dotted papers have got an upper edge due to their versatility and user compliance.
What is a dotted paper?
A dotted paper consists of dots and lines as suggested by its name, separated from each other by a uniform distance. The distance could be modified according to your requirements. The paper is more versatile and compromising than the lined or graph papers since you can draw any shape and any line in any direction without concerning about the paper's limitations.
Uses of the dotted paper:
Dotted papers are widely used by the experts in the place of the lined and the graph papers. They are widely appreciated for their subtleness and flexibility all over the world. Designers and professional use them a lot.
You can use these pages for performing graphical functions, sketching and drawing three-dimensional pictures and exercises as well. These are helpful since they don't have any limitation of the ruler or the scale.
Dotted papers generator:
Dotted papers are available online as well. You can get the paper customized according to your work from our website as well. Here is a list of the samples that might help you a lot. Listed below are a few things that you need to know while you get your paper generated online:
There are a variety of sizes in which the papers are available. You can get them in A4 size, letter size or ledger size.
The number of dots per inch can be customized as well. You can as many as 2 to 3 dots per inch and the spacing between the dots could be adjusted from 25 to 30 mm as well.
You can decide whether to get the paper in the portrait form or the landscape form.
Preview & Detail of Templates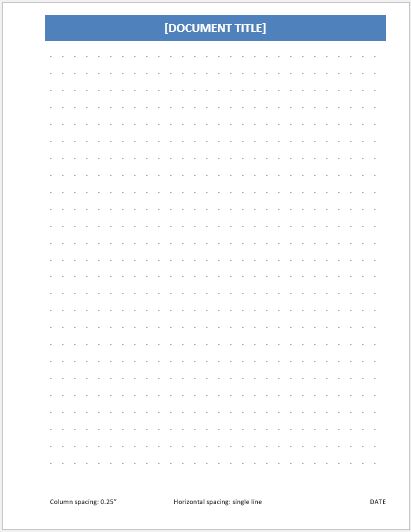 Dotted Paper
File: Word (.doc) 2003+ and iPad
Size 24 Kb | Download
Column spacing: 0.25″ [4 dots per inch]
Horizontal spacing: single line
---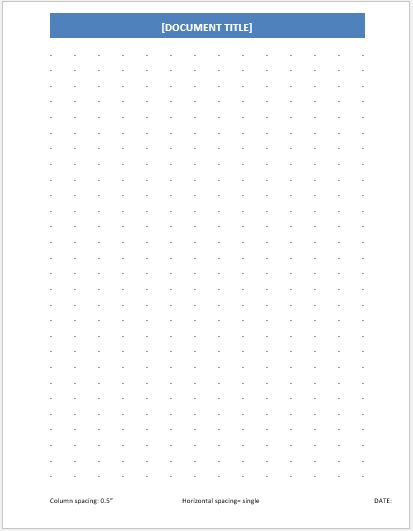 Dotted Paper
File: Word (.doc) 2003+ and iPad
Size 23 Kb | Download
Column spacing: 0.5″ [2 dots per inch]
Horizontal spacing: single line
---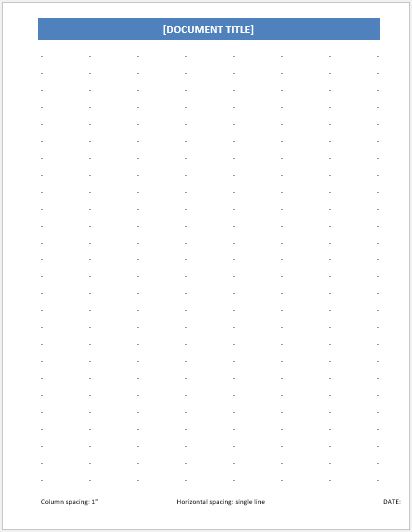 Dotted Paper
File: Word (.doc) 2003+ and iPad
Size 24 Kb | Download
Column spacing: 1.0" [1 dot per inch]
Horizontal spacing: single line
---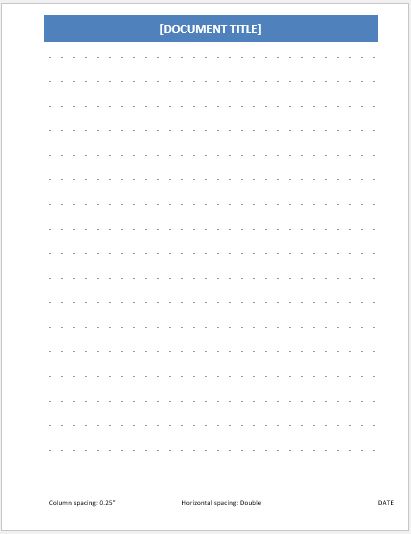 Dotted Paper
File: Word (.doc) 2003+ and iPad
Size 24 Kb | Download
Column spacing: 0.25″ [4 dots per inch]
Horizontal spacing: double line
---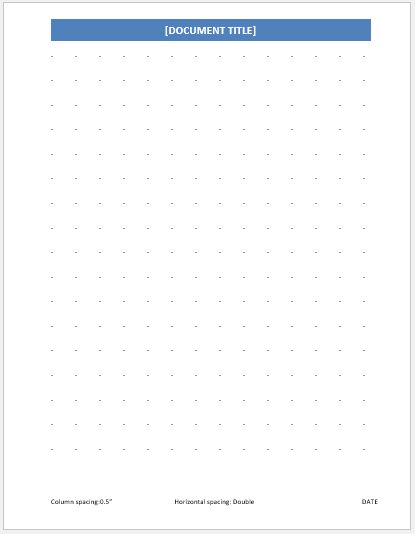 Dotted Paper
File: Word (.doc) 2003+ and iPad
Size 23 Kb | Download
Column spacing: 0.5″ [2 dots per inch]
Horizontal spacing: double line
---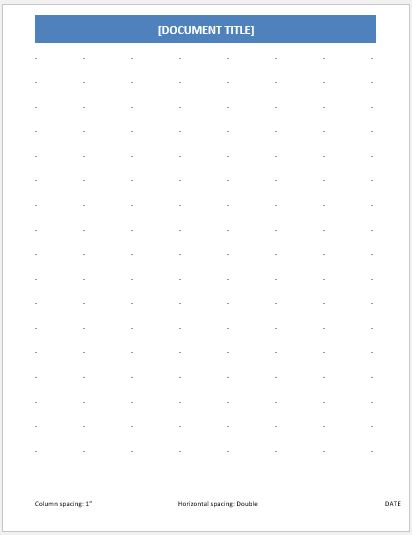 Dotted Paper
File: Word (.doc) 2003+ and iPad
Size 24 Kb | Download
Column spacing: 1.0" [1 dot per inch]
Horizontal spacing: double line