In modern day business, it is a common tradition to have a meeting lunch. It is basically a formal lunch where all the members of the meeting gather together to have a lunch and discuss all the points of the meeting. This is a modern way to have a formal yet friendly lunch with the peers and have a meeting meanwhile too. If the organizers want to have a smooth meeting without the hassle, they need to have a meeting lunch order form. This allows the managers to know exactly what the members of meeting want in lunch and when and where the lunch is required.
Why there is a need for this form?
The organizers can use this form in a very useful way. They can jot down the details that are asked by the host of the meeting. This form proves to be a written evidence of what the host of the meeting wanted to be served by. The form allows the organizers to have a complete description of the type of food each member will have. This makes the meeting more easily handled and organized.
Template
The best way to draft a standard meeting lunch order form is to draft it in a tabular form. This will make its usage easier and efficient. The first column should bear the number of the items. The second column should have the description related to the item ordered. This should include all the main dishes and side orders together. The third column will describe any special order that people may add in while ordering. This may include any allergies to some ingredients, or not like others.
These descriptions and special order should be jotted down against the name of each member. This makes sure that the order is not mixed or messed up. At the end of the column, the date and time of the meeting, department of which this meeting is, the name of the organizer of the meeting, his contact number, set up time of the lunch, clean up time, venue and any special equipment needed should be mentioned.
Preview & Details of Template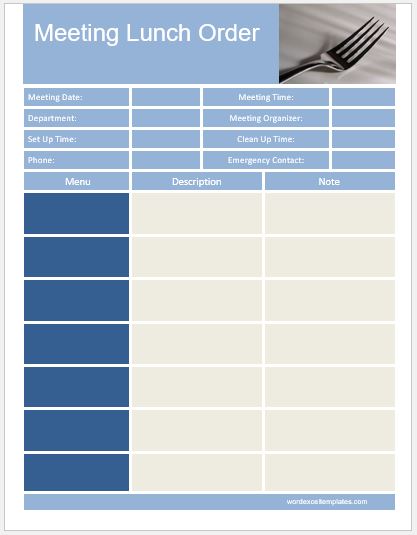 Meeting Lunch Order Form
File: Word (.doc) 2003+ and iPad
Size 312 Kb | Download
License: ENERGY [Personal Use Only]