Just like any other permission letter, the loan authorization letter is written to anyone you want to grant permission to take certain actions on your behalf. Since this letter is about loans, you write it when you want to authorize someone to take out a loan on your behalf.
The purpose of the loan authorization letter is to inform the reader that you want someone to act on your behalf. In addition, this letter brings all the important details in writing which enable the institutes to claim later that they have been informed about the permission.
In what situation, the loan authorization letter is written?
People apply for different types of loans such as housing loans, loans for business, or for meeting their educational expenses. However, when you want to apply for a loan but they are not present, they allow someone else and let others know about it. Without writing this letter, a person will never be able to get the loan approval in his absence.
What information is mentioned in the loan permission letter?
The information to be mentioned in this letter varies from situation to situation. However, a few details can be common:
Statement of loan authorization
Description of the loan amount and type
Details of the person you are authorizing including name, your relationship with that person, and actions that person is allowed to take
Thanking the reader at the end for the loan application opportunity.
If you want to know how you can write a perfect letter, read sample letters given below:
1:
Subject: Loan authorization letter or [ABC]
Dear Mr. ABC,
I am writing this letter to authorize my wife, Mrs. XYZ to claim the loan on my salary from my office. I applied for a salary loan 6 months ago. Due to some personal reasons, I have to go out of the country. I could never get the approved loan payment from the office due to my absence. Therefore, I allow my wife to collect the loan payment from the office.
My wife will bring her ID card, our marriage certificate, and my office employment card as proof.
Furthermore, I would like to authorize my wife to sign all those documents that are necessary to be signed by me in my absence to process the loan process. I hope that you will consider my letter of permission and help me get the loan payment as soon as possible.
Thank you so much for your coordination. Please reach out for any queries at (mention your contact details). For any loan-related queries, you can contact my wife at (mention your wife's contact details). I look forward to hearing from you soon.
Regards.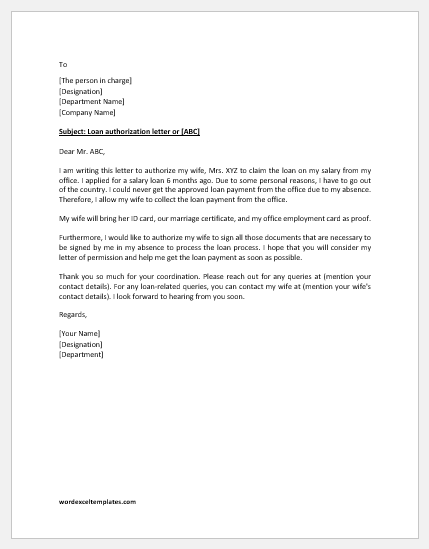 Size: MS Word (.docx) 55 KB
2:
Subject: [XYZ] loan authorization letter
Dear Mr. ABC,
I, ________ mention your name, hereby authorize my sister Miss. Lisa to act on my behalf in the process of the loan application. She is being given authority by me to read and sign all the documents that your company requires to successfully process the loan payment. Miss Lisa will be responsible to provide you with all the documents that your company requires for the loan process.
I would like to add here that this authorization will remain valid until the complete processing of the loan payment. I am attaching all the certified copies of all the documents for your confirmation of my employment, my relationship with my sister, my bank statement, etc. If you want to know anything regarding this matter, you can reach me at (mention your contact details including phone number or email address).
If there is anything you need to ask about the loan application or payment, please contact my sister. I would be very grateful to you if you accept my letter of authorization and allow my sister to act on my behalf. You are allowed to use this letter as a legal document for your security.
Thank you so much for your support and cooperation. I look forward to your positive response.
Yours sincerely.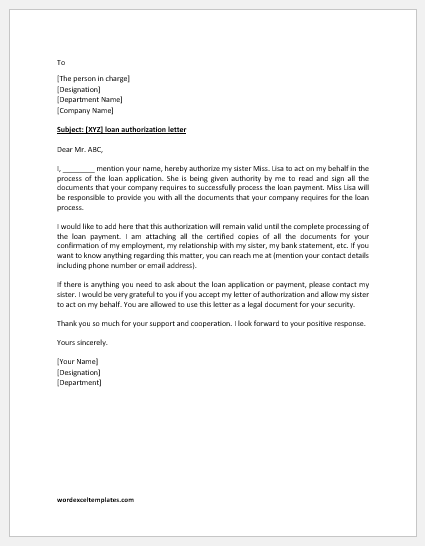 Size: MS Word (.docx) 55 KB
More professional letters…