An acceptance letter of credit is a formal document that a bank or any such institute writes to the person who has applied for the credit amount. In this letter, the sender tells the reader that the institute has decided to accept the credit because of certain terms and conditions that have been agreed upon. Several details are shared in this letter.
In general, this letter includes the information:
Description of the total amount being transferred to the account of the reader after the credit has been accepted.
Description of the terms and conditions that have been agreed upon
We payment plan for the payment of the credited money
Ending the letter on a positive note.
Writing the acceptance letter of credit:
Follow the tips given below so that you do not miss out on anything important:
Gather all the details:
Some people do not bother collecting details about the debtor before they accept the credit and write letters of acceptance. So when they practically start writing the letter, they forget to add several details. It is important to collect all the details beforehand.
Use the formal tone:
Don't forget that you are writing a professional letter that requires you to use professional language and a formal tone.
Write precisely:
Since it is a formal letter, you cannot add details that are not relevant or unimportant. Therefore, provide every piece of information in a precise manner as the precise letters are less ambiguous.
Read two sample letters given below for understanding how to write the acceptance letter:
1:
Subject: letter of acceptance for credit at [XYZ]
Dear Mr. ABC,
I hope this letter finds you in good health. This is to inform you that XYZ bank has thoroughly reviewed your application for credit and I am glad to inform you that the bank has decided to approve the credit. The amount (mention the total amount) will be credited to your account by 14th October 202X. You can begin using this amount as soon as you receive it in your account.
Please note that the bank has approved the credit considering all the terms and conditions that you and the bank have agreed upon. Therefore, the bank expects you to be regular and honest while dealing with it.
You are our valued customer and we take pride in dealing with you. If you want to know more about your account and the amount of credit, our team is available to assist you 24/7. Thank you so much for choosing XYZ bank for securing credit. We hope to deal with you happily and build a healthy relationship
Sincerely.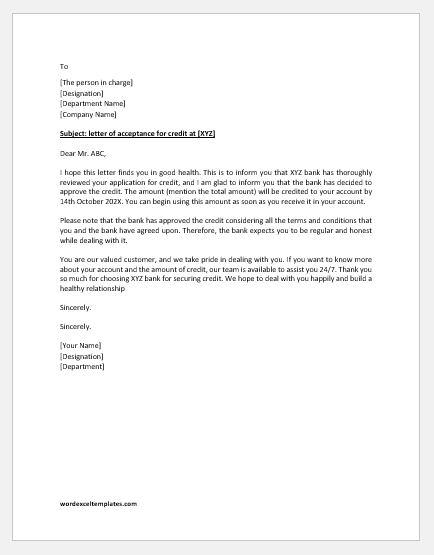 2:
Subject: credit acceptance for [ABC]
Dear Mr. ABC,
This letter is being written to inform you that your credit application has been approved and the bank has decided to credit your account with (mention the amount). This decision has been taken after carefully reviewing your application and credit report.
Our bank has trust in you and we would like to remind you that you have settled on some terms and conditions according to which, you are supposed to pay back the credited amount within 5 years with a 20% interest rate. Many other conditions have also been discussed and we have attached a copy of the agreement with this letter so that you can also confirm the credit acceptance.
You are requested to have a look at the documents enclosed and read the letter thoroughly. If you have any questions regarding the credit amount, please contact us (mention your contact details). We will be very happy to assist you. We look forward to a response from your side and to building a trusted and healthy relationship with each other so that we continue dealing with each other.
Sincerely.