Applying for the loan requires you to provide a lot of documentation. Some organizations ask you to fill out the loan application form, while in some cases, you have to write a loan application letter to the institute to apply for the loan.
The loan application letter allows you to add all the details that you are required to provide. The letter is written to the loan manager of the company, and he then decides whether he should accept the application or not. The letter should include the personal information of the applicant, and since it is a formal letter, it should be written to the point by avoiding unnecessary details. The lender should follow a standard format while writing the loan application letter. The loan manager should be told about the intended use of the money.
The first paragraph of the letter should state the reason for lending the money. It should be assured in the letter that you will not use this money for any illegal purpose. The date on which the applicant will return the borrowed money should be mentioned in the letter.
You should also include information about you in the letter that can make the reader feel that you are a trustworthy person. Here is a sample letter that can help you learn about the structure and format of the letter.
Loan application letter:
Dear [Recipient's Name],
It is stated that I am writing this letter to request a loan from the finance office of your company because of some of my very peculiar and essential needs. My mother is seriously ill, and I must get her treated at the hospital, for which I need money. Please accept my loan application and sanction me $2000. I assure you that I will return you the loan from the deductions of my gross salary.
I will be highly grateful for this favor of yours.
I am looking forward to your reply.
[Your Name]
Preview and Details of Template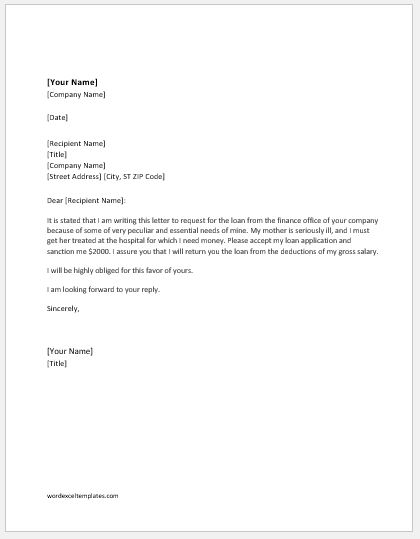 File: Word (.doc) 2003+ and iPad 
Size: 31 KB
More options
1-
I am writing this letter to get a loan from your bank branch situated in New Jersey. Currently, I am working as a sales executive for ABC Organization and need a $10,000 loan. I am in utmost need of this amount as I have to meet the surgery expenses of my father. I have gone through all the requirements related to the loan process and have enclosed the necessary documents along with this email. Please let me know what other documents I need to send you, and you can call me at any time for further queries. I hope you will give a positive response to my request.
2-
This application is a request to ask for a loan from your organization. I am Christiana Roseland, and I am currently running a bakery in New Jersey. I am planning to open a new branch according to the rising demand of people. For this purpose, I need $70,000/- and I will return the amount in installments. I have thoroughly read the rules and policies for the loan process and hopefully, I will return the entire amount within the given time period and the financial pronouncement has been affixed with this application. Waiting to get positive feedback from you.
3-
This letter is a request for a loan application to construct a house. I am the managing director at ABC Company, and my monthly salary is not adequate to meet the construction expenses. I will return the due amount according to the company's rules and policies and will not let you be disappointed. I contacted the admin office to find out the details, and Mr. Jackson has provided me with all the information. If you need additional information, you can ask me at any time. Thank you for taking my request into account.
4-
Dear Madam, I, Darcy Louis, work in the security office of your company. I live in Valley Stream and travel two hours daily to come to the office. I do not have a personal vehicle, and sometimes it creates a lot of difficulties, and I often arrive late to the workplace. I want to apply for a loan because I have to buy a motorcycle. I need $10,000 in this regard. I have chosen a six-month installment plan, and 20% of my salary will be deducted each month. I request that you accept my loan application. I will be grateful to you. Thanking in anticipation.
5-
Dear Sir, I am Dorothy John, and I live in Toronto. I am running a branch of ABC School. The strength of students is increasing with each session, and it is becoming difficult to adjust to the large number of students in a limited space. Therefore, I need to open a new branch adjacent to the current school and construct a new building, but I do not have enough money. I learned about your loan policy and want to apply for it. I have attached the needed documents along with the application. I am hoping to hear a quick response from you.
6-
I am Julia Hughes, and I am writing this message to ask for a loan from your bank. I have an account in your Brooklyn branch, and my account number is [#]. I have a small business marketing in Brooklyn, and I intend to open a new branch in the Netherlands. Hence, it can be a source of ease for hundreds of people. The savings I have and the loan I am asking for will be of great help in expanding my business. Kindly send me an email detailing all the formalities for the loan process. I would like to ask you to send me a confirmation message so I may visit your branch on an immediate basis.