To make the smooth running of your business, it is needed that you regularly keep track of the equipment of your store. The use of clothing store inventory template has made it possible for you to download it and start using simply.
The main purpose of using the spreadsheet is to ensure that the top of the items in the store is available. With the help of this sheet, you can easily manage your inventory and all those tasks that are directly or indirectly related to the inventory affairs. The standard delivery of the inventory to your store is also made possible using this worksheet.
To effectively manage the directory of your clothing store, there is a need to estimate all the internal and external factors carefully. The complete understanding of those factors is important so that a review of the inventory of the clothing store can be done.
Many companies have arranged a separate department for the management of the clothing inventory. However, if your business is small and you cannot afford to hire more employees for this task, you can use the template for the inventory of your clothing store.
When it comes to managing the inventory of your warehouse, you might be looking for something inexpensive and time-saving. The use of the template is one of the most effective ways to do this. The sheet of inventory is usually prepared in MS Excel. Downloading a ready-made template for your clothing business is recommended when you have no idea about the format and the content of the worksheet.
The template for the clothing story inventory is useful because it enables the person keep track of the inventory and manages it in an organized way. This template is equipped with all the essential and necessary details that are required to be added to it. There are different pre-defined formulas and re-ordering reminders in this template. The template is editable that allows you to add the details unique to your clothing store in it whenever you want.
Preview and Details of Template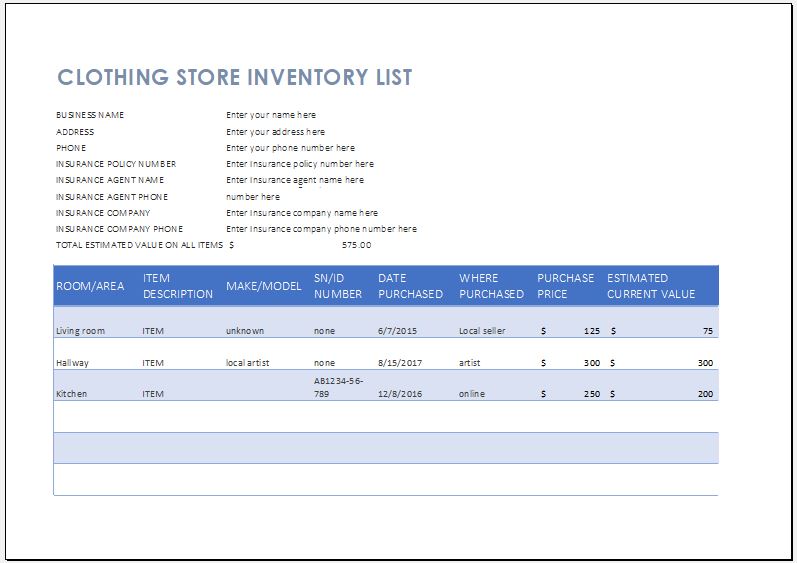 Clothing Store Inventory Template
File: Excel (.xls) 2003+ and iPad 
Size 31 Kb | Download
License: ENERGY [Personal Use Only]