What is hardware inventory sheet?
The hardware inventory sheet is a document that is used to keep track of all the hardware accessories in one's possession.
In today's world, the use of technology has become inevitable. The life of the people surround the core of technology, and now most of the businesses and life activities depend on the technology such as banking, managing the business, managing and organizing inventory, etc. It is the primary requirement of every company to keep track of its equipment inventory so that it can undergo a smooth running of the business without facing the scarcity of the hardware inventory.
Hardware inventory template:
The template for hardware inventory can be downloaded for offline use from this website. It is formatted in MS Excel sheets and provides Excel worksheet for maintaining the record of all the Equipment inventory.
The main purpose of using the equipment inventory template is to ensure that the hardware of the company is being managed properly.
It is also used when someone wants to keep track of his business's assets. The template available here is of premium quality. There are multiple columns and fields present in this template in which the details of the hardware inventory can be inserted.
Benefits of using hardware inventory template:
These are the key benefits:
It makes the management of the business quite easier.
It helps the user maintain the record of the hardware, its placement, and location.
This template also provides the backup schedule and other relevant details.
It is one of the detailed solutions which assist you in ensuring the smooth running of the business all the time.
The template provides the easy access to its contents.
It also provides the opportunity to the user to customize it so that the hardware can be maintained and the pace of the business can be excelled.
It also enables the business work smoothly without putting off much burden on the staff.
It saves time that otherwise would have wasted in preparing a hardware inventory sheet from scratch.
Preview and Details of Template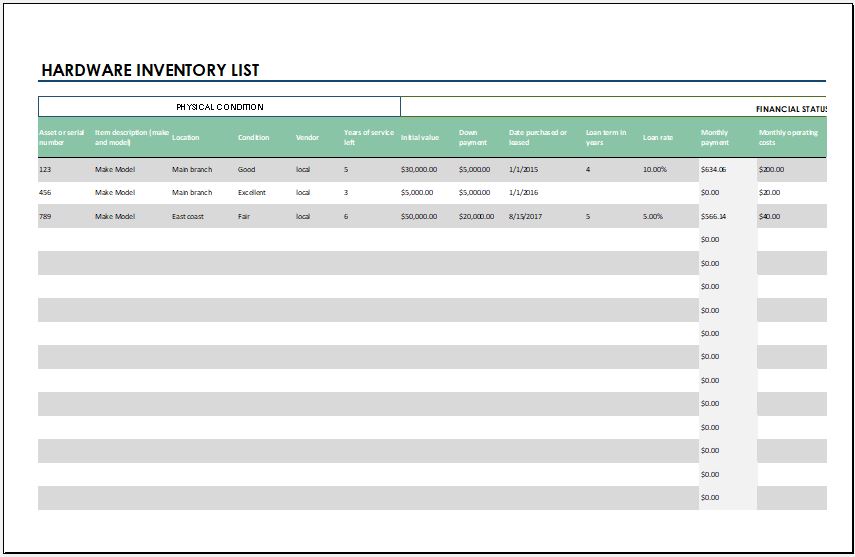 Hardware Inventory List Template
File: Excel (.xls) 2003+ and iPad 
Size 31 Kb | Download
License: ENERGY [Personal Use Only]