A rent reduction request letter is a document written by a tenant and is addressed to the landlord. In this document, the tenant highlights his shortcomings and difficulties to pay the full rent. The text focuses to convince the landlord that he can reduce the rent for the tenant for a certain period.
In some cases, the rent amount becomes too much for a person to pay and he finds no money left for other necessities. In such a situation, the tenant can write a letter to his landlord requesting a reduction in the rent.
There can be many reasons for asking for a reduction in rent such as low income, more tax, etc. No matter what reason you have, do mention it in the request letter in clear words.
The rent reduction request letter should not be started with a list of complaints. If you want the landlord to approve this request, it is important to maintain a good relationship with him. There should not be any statement in the letter that can make him angry.
Emphasis on the positive aspects of your tenancy such as paying the rent on time, maintaining the property of the landlord, and making small repairs with the passage of time.
Here is a sample request letter that can give you an accurate idea of writing the request letter to your landlord.
Samples
#1
This is a formal request letter to request a rent reduction due to the financial crisis I am facing. I have suffered a lot due to my bad health and half of my salary is spent on meeting my medical expenses. All this has made it very difficult for me to manage and I remain stressed all the time. This is also affecting my working abilities and my boss often complains about this.
I am financially not stable but I have hopes that good days will come. After meeting the house rent and my medical expenses I hardly find money to run my house. I humbly request you to please reduce the rent. I assure you after I get stable I will pay you the full amount. I am waiting for your positive response.
#2
I am writing this letter to talk about the house rent I am residing in currently. The current year has not proved good for our organization and we have gone through a big financial loss. Due to this, the organization has decided to deduct 30% salaries of its employees each month. I do not have any other option than to go with the tides. I cannot think of leaving the job as I have no other source of income. My family is totally dependent on me. This time is very tough for me and I am in great agitation.
I am feeling shy about making the request for a rent reduction to you. If you do so it would be a great act of kindness for me. We have been on good terms for a long time and I hope you will understand my current position.
#3
I am writing this letter to make you a request to reduce my house rent for six months. As you know after my father's death I am the only breadwinner of my family. We have been living in a rented house for the past three years and during this time I paid my house rent on time. I did not ever give you a chance to complain about me and we have established a good relationship.
Due to some reason, our company has been closed for six months. This was very shocking news to me. the only thing that came into my mind was how I will be able to pay the house rent. I have some savings but these are not enough to pay the full rent. Therefore, I request you to please reduce my house rent to 50% for a few months. This would be a great favor for me and I will never forget this act of kindness.
#4
I am Louis Maxwell and currently living as a tenant in your apartment. This letter is to seek your favor to reduce the house rent as I am unable to meet the full expenses. This house is adjacent to my job place and very convenient for me. In a recent robbery incident, I lost all my savings and now it has become tough for me to meet all the expenses. I have never made such a request before and I hope you will consider it. Thanking in anticipation.
#5
Dear [Recipient's Name],
I am writing this letter to inform you that our lease agreement is going to be ended on 25th February of this year. With the renewal of the lease, I would like to request you to reduce $1000/- in the rent. I am already paying you $7,000 and request you make a settlement of $6,000 in the renewed lease agreement.
I have been paying the rent on time for the last five years. Punctuality is the main aspect of my tenancy. It, however, has become hard for me to pay that rent because of being in a financial crisis. I hope to get your supporting hand in this difficult situation.
Sincerely,
[Name]
Preview and Details of Template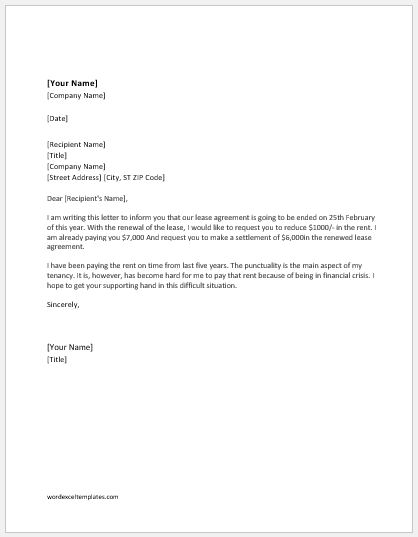 File: Word (.doc) 2003+ and iPad
Size 31 Kb
Letter to Negotiate Rent Reduction
Dear Owner, my friend and I have been living at the address for the last two years. We certainly relished the unobtrusive vicinity and dominant site. Though, I have observed that many flats in the area are leasing much less than the sum we pay for the same or perhaps enhanced amenities. My roommate also knows that some of those flats are vacant these days.
We have always paid rent on time without an amount overdue for the whole time we have been living here. We completely loved living in this part of the city. We thoroughly want to stop over here for the long-standing term if suppleness is made known on your side.
If you minimize our lease, we would love to get it renewed. We also aspire to sign a one-year paid contract for rent. We have always upheld the flat in good repair. I wish to receive the answer from you in five or six days, otherwise, we will have to make strategies to move from here.
It would be highly appreciable if you consider my request since this is for sure a central place in the city and I would love to stay here as long as things remain settled between us.