One of the major parts of maintaining the bottom line of the business is maintaining the inventory. Therefore, it is very important for a business to keep the record of the equipment that it has in its possession. The main purpose of preparing a tools sign-out sheet and using them is to keep a check on all the equipment of the business. This sheet also keeps track of who is using the equipment.
Whether you run a large equipment store or a small shop, the template of tools signs out sheet always works. You can easily control the log of your equipment through the use of this template. It prevents you from preparing a sheet for your business from scratch that consequently saves a lot of time.   
Benefits of tools sign out sheet:
Here are the potential benefits of using the tools sign out sheet:
The sign out sheet is useful when you want to keep track of your inventory store with ease and comfort.
This sheet efficiently keeps the record of borrowed items.
If you have a large inventory store, it might be hard for you to handle it. The use of sign out sheet for tools makes the management easier and effective.
Key elements of tools sign out sheet:
The main items that are included on the sign out sheet are:
The date of purchasing the equipment
The complete description of the equipment
The date on which the equipment will be returned
Tool sign out sheet template:
This template is a digital form of the document that is used to keep track of the equipment. Just download this template on your device and easily access the data of the template no matter where you are. There are multiple tools that enable the user to customize this template according to the needs of his business. The customization tools also enable the user to prepare a sign-out sheet that is exactly in accordance with the liking of the user. The tools signs out sheet template can be downloaded free of cost.
Preview and Details of Template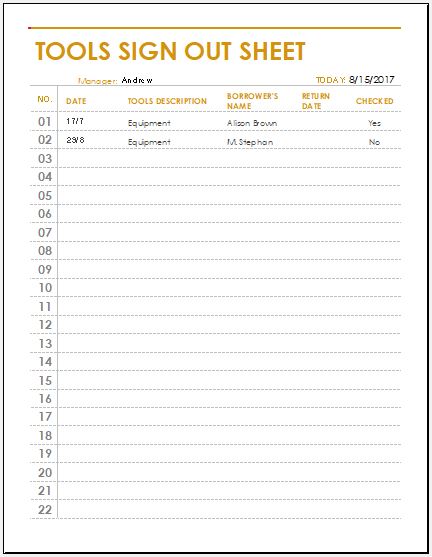 Tools Sign Out Sheet Template
File: Excel (.xls) 2003+ and iPad 
Size 17 Kb | Download
License: ENERGY [Personal Use Only]
---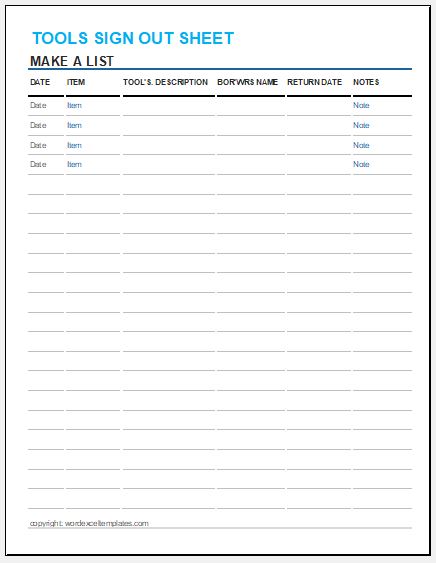 Tools Sign Out Sheet Template
File: Excel (.xls) 2003+ and iPad 
Size 19 Kb | Download
License: ENERGY [Personal Use Only]