Your clients are the most powerful people as they have the power to make your business successful or a fiasco. Therefore, you cannot imagine becoming successful if you don't communicate with your clients.
When you are expanding your business, you feel the dire need to interact with your clients to let them know about your business and the services it offers. Clients can be customers, other business partners, or vendors who need to interact with different companies.
What is a letter introducing your business to the client?
This letter serves as a great opportunity for business owners to communicate with business partners, customers, investors, and other relevant people so that they can know about their business. The purpose of this letter is to let every relevant person know that you have got something really useful to offer.
When you have to write an introduction letter, you cannot just find a pre-written letter and send it away because every letter and its content varies from business to business. It also depends on who you have chosen to write to and then compose the letter accordingly.
Best tips to write an effective introduction letter?
Below are some effective tips to be followed before you embark upon writing a letter that stands out:
Determine the purpose:
Every introduction letter has a different purpose depending on the type of letter and situation. For instance, the letter written to the investor is different from the one written to the distributor because both investor and distributor serve a different purpose.
Unless you are clear about the purpose of your letter, you should never start writing this letter because you will not be able to achieve fruitful results out of it.
Research the industry:
The introduction letter also varies with the type of market you are targeting. Once you have known the industry well, plan out your communication with the people. Researching the market help people especially when they want to know the pain point of people and then they tailor their business to their needs.
Start with the powerful statement:
The letter should not sound like a promotional tool as people don't like promotions. Try to build a strong statement regarding your business and then let the rest of the letter support it. A strong statement can be a quote that you think can impact the reader and attract him to your business.
Include important details:
The introduction to your business should not be irrelevant and it should not talk about things that are not required to introduce a business. Always try to bring up those major details of your business that can let the reader know about your company. Make sure that you don't overshare in this letter and try to develop curiosity in the mind of the reader so that he wants to explore your business.
Create a call to action:
The call to action tells the reader what he is expected to do after reading this letter. In this part of the letter, you provide your contact details that the client can use to write back to you in response to this letter. Describe the ways to the reader by which he can get to know more about your business.
Proofread it well:
You don't want to disappoint the reader with what you write. Therefore, always proofread your letter well before you decide to send it.
Sample letter:
Dear (mention the name of the client),
I am John, writing on the behalf of ABC Company. Our company is entering the food industry by offering organic and high-quality food supplements, wellness products, and much more. We have been running one branch of the company in California and we are so excited to inform you that we are opening another one in your city now.
I strongly believe that we can work together to add value to our customers' life. There is no such company that provides such services that we are offering. I hope that we will be able to grab the attention of the market. Should you need to know more about this company, feel free to contact me.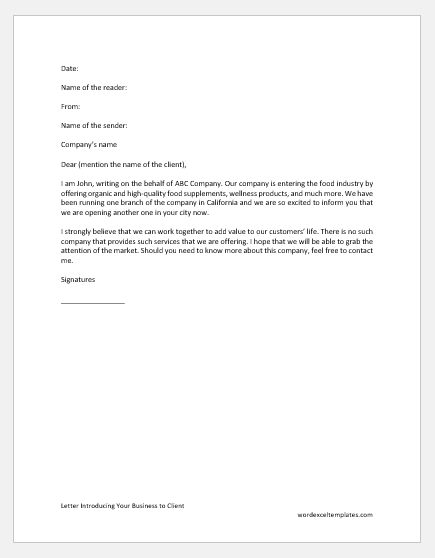 File: Word (.docx) & iPad
Size 24 KB
See also: