What is leave application letter?
A leave application letter is a letter/application that is written to the employer by an employee who is unable to work for a certain period of time to acquire an approval of the absence or leave due to some convincing and solid reasons. Leave application letter can be sent via an email depending on the policy and rules of the organization. For example, if there is certain [task/occasion/incident] in the employee's house and that employee needs to take leave from work so the employee writes a leave letter.
Leave application writing tips:
It should be convincing.
Dates of your absence must be mentioned.
Be formal.
The tone of the letter should be polite.
Provide an alternate contact in case of emergency.
Supporting documents can be attached to your letter to be more convincing.
If required offer an alternate to provide assistance.
Show thanking attitude for their consideration.
Sample for leave application/letter
[Employee Name]
[Designation]
[Company Name]
Date
RE: Leave application
Dear Mr. XYZ,
I am writing to request a leave of an absence from the office from May 12 to June 3, 2018.
I am working with your organization for the last three years and in this time span I had never taken an off from my work. I know that it's the policy of a company that we can take a formal leave of only two weeks in one go.
I request you to give me an approval for this. As doing this favor can help me to give some precious time to my family that is being ignored lately.
All my tasks are up to date. Mr. John would work as a temporary replacement for me if needed as I have guided and trained him. I would also be available for any assistance if required, while I am not here.
Please consider my request. I look forward to your response. Kindly let me know if you need any other information.
Sincerely,
[NAME]
Preview and Details of Template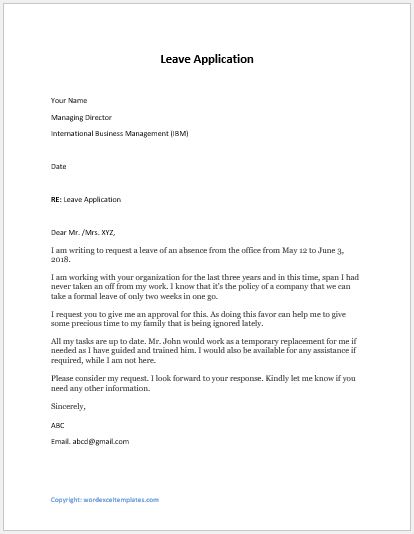 Leave Application/Letter Sample
File: Word (.doc) 2007+ and iPad 
Size 24 Kb   | Download
[Personal Use Only]