What is a leave application letter?
A leave application letter is a letter/application that is written to the employer by an employee who is unable to work for a certain period to acquire approval of the absence or leave due to some convincing and solid reasons. A leave application letter can be sent via email depending on the policy and rules of the organization.
For example, if it is a certain [task/occasion/incident] in the employee's house and that employee needs to take leave from work so the employee writes a leave letter.
Leave application writing tips:
It should be convincing.
The dates of your absence must be mentioned.
Be formal.
The tone of the letter should be polite.
Provide an alternate contact in case of emergency.
Supporting documents can be attached to your letter to be more convincing.
If required offer an alternate to provide assistance.
Show thanking attitude for their consideration.
Sample Applications for Various Reasons
1.
This message is to bring to your notice that I need a few days to leave for a family trip. My father works in Canada and he has come to Manchester for two weeks. We have planned to go to Arizona and I need a favor from you in this regard. I need five days' leave to spend time with my father. I have requested my classmate Sheriff to share class notes on daily basis and he is agreed to do this. I will make extra efforts to cover the workload while coming back to school. I hope you will sanction my leave request.
2.
With humble submission, I am writing this message to inform you that I am going to Brooklyn to visit my father. He has been diagnosed with a brain tumor and his surgery will be on [mention date]. I need to be with him in the hospital as I am his only son and he needs proper care. I need ten days' leave and in my absence, Mr. Hamilton will manage my workload.
I will not remain available for any assistance during these days and will resume duties after coming back. My father's medical report is pinned with the letter and for more information, you can email me. I will be thankful to you for cooperating with me during this difficult time.
3.
Please be informed that my husband is going to Istanbul for a business meeting. He will stay there for two weeks and there will be no one in his absence to be with me. Therefore, I am also going with him and I need two weeks' leave in this regard. I am a diabetic patient and I cannot live alone in a home. Sometimes my sugar level gets too low that my husband rushes me to the hospital immediately. In this situation, he cannot let me live alone. I hope you will understand my situation and will cooperate with me.
4.
I am heartrending in writing this message to you to let you know of my brother's death. He died in a car accident yesterday and my family is in utmost depression. I do still not believe that he is no more with us. His death news has shattered me to the core as we were very close to each other. It would be difficult for me to report to the office for a few days. I would be thankful to you for allowing me to leave.
5.
This message aims to seek your permission for five days off due to an important reason. I applied to Oxford University for a scholarship and yesterday I got a call from there. My name has appeared on the list. For this reason, I request you to allow me five days' leave as I need to fill in further requirements. My flight is on [mention date] and I will be back at the university after completing the entire process. I hope that you will be happy after this news as its credit only goes to you. Thank you for your kind consideration.
Sample for leave application/letter
[Employee Name]
[Designation]
[Company Name]
Date
RE: Leave application
Dear Mr. XYZ,
I am writing to request a leave of absence from the office from May 12 to June 3, 20XX.
I am working with your organization for the last three years and in this time span I had never taken an off from my work. I know that it's the policy of the company that we can take a formal leave of only two weeks in one go.
I request you to give me approval for this. As doing this favor can help me to give some precious time to my family that is being ignored lately.
All my tasks are up to date. Mr. John would work as a temporary replacement for me if needed as I have guided and trained him. I would also be available for any assistance if required, while I am not here.
Please consider my request. I look forward to your response. Kindly let me know if you need any other information.
Sincerely,
[NAME]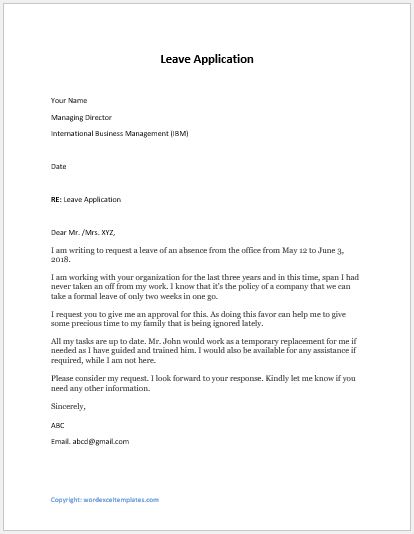 File: Word (.doc) 2007+ and iPad 
Size 24 KB
See also: