Halloween is a favorite holiday among kids. The anticipation and excitement are almost tangible as the end of October approaches. They get to collect candies and dress up as the character of their choice. The fun can extend to the rest of the year by keeping the spirit of the holiday alive. Halloween coloring books are one of the ways of bringing the same excitement to kids as the actual holiday does.
An exciting theme for coloring books
Coloring and painting are excellent activities to keep kids engaged in something constructive. They also get to improve their motor skills and creativity through these activities. There are various themes for coloring books. Halloween is one such theme as it is a hit among kids. Both boys and girls enjoy coloring spooky characters. These books are one of the bestselling items at books stores, especially around the time of Halloween during October.
Contents of a Halloween coloring book
These coloring books are full of spooky characters for kids to color. These may include ghosts, vampires, zombies, and monsters. However, all the images are age appropriate and not too frightening for the little ones.
Some Halloween-themed coloring books offer funny images like a silly witch or a weird-looking pumpkin. Similarly, these books can also contain some positive characters like superheroes and fairies. The friendly ghost, Casper is also a popular character in Halloween coloring books.
Where to find a Halloween Coloring Book?
These are available at any bookstore for kids. However, one of the easiest ways to find a Halloween coloring book is online. There are free downloadable books that can be printed for children to color. Alternatively, single images are also available based on the Halloween theme. Users can print individual pictures and create their own books. It can be a wonderful and affordable gift for kids on the holiday. Creating this kind of coloring book hardly takes any time.
Customizing a Halloween coloring book
Kids might not enjoy all the images in a coloring book. Keeping this in mind, a great option is to create your own customized coloring book. Search for printable coloring images online based on the Halloween theme. You are going to find many spooky or silly ones. Select the ones your kid would enjoy. Print the pictures and bind the pages together in order to give them a book-like look.
On the other hand, you may also include certain activities other than coloring in your customized book. Search online for such activities that kids enjoy. These include the word jumble, connect the dots, puzzles, crosswords, and so on. These activities can also be based on the Halloween theme.
Adding interesting coloring images and fun activities can help you create the perfect Halloween coloring book. It can give a paperback book feeling.
Benefits of online coloring books
Here is why you should get your next Halloween Coloring Book online.
These are easily accessible from your home.
You can customize by selecting the images of your choice.
These are affordable and fun.
There are many options available.
Enjoy these coloring books with your kids.
It can be

a fascinating gift for your kid

A fascinating and exciting gift for your kids is a Halloween coloring book. Let them take out their crayons, colored pencils, and water paints. The book offers a wide variety of interesting Halloween characters and creatures to be colored. In addition, there can also be other engaging activities like connecting the dots.

You can choose a book with the most interesting activities for your kids. It will keep them busy during the holiday season. Parents can also take part in the fun to spend quality time with the kids. The book can also give decoration ideas for your Halloween party or costume.

Your kids can choose their favorite character from the coloring book and dress up like it. A large variety of Halloween coloring books is available. Different books vary according to the types of activities they offer. In addition, the number of pages also varies. You can choose a book according to your requirements. Keep in mind what your kids would like best.
Polish the

art skills of your kid

A good idea is to take your children along with you to purchase the coloring book. You can buy one, two, or more as it offers a constructive activity. Your children can polish their art skills. Moreover, their imagination and creativity will also be boosted.

Halloween coloring books can also be gifted to other kids in your family. Everyone will enjoy coloring or painting spooky characters. This will enhance the spirit of the occasion. This is an extremely enjoyable holiday. Likewise, a Halloween coloring book will be loved by children.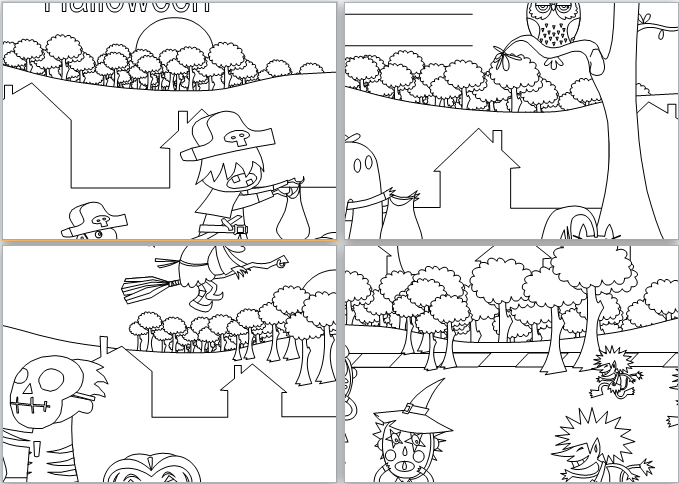 File: Word (.doc) 2007+ and iPad 
Size 3MB
No. of pages = 8
See also: