Christmas party is a very joyous occasion. It should be well-organized in order to enjoy it fully. Planning a menu is one of the most important tasks for the host. This job can be made more accessible by utilizing menu sheet templates. These templates are great at planning as well as organizing a menu list. Christmas party menu sheets can be found on the internet. You can find templates as well as samples. The latter can give you ideas about what to put on the dinner table before your guests.
All you have to do is find the perfect menu sheet template for yourself and print it. You can get more than one copy. This way, you can have rough menu sheets before making a final neat one. In this sheet, you can break down the menu into different categories. Party snacks, appetizers, main courses, drinks, and desserts can be the categories.
You can arrange a great menu if you are having a small gathering. However, keep it simple and within budget for larger parties. Such Christmas party menu sheets are helpful for home as well as office parties. It is one of the simplest ways of planning and organizing a menu. You can list the food items on the sheet. This will help you in grocery shopping as well.
In addition, you will also be able to evaluate the total cost. Any item can be added or removed while you are still planning. The final menu sheet will be a great help for a wonderful Christmas party.
The sheet is helpful in breaking down all details of the Christmas party menu.
Preview and Details of Template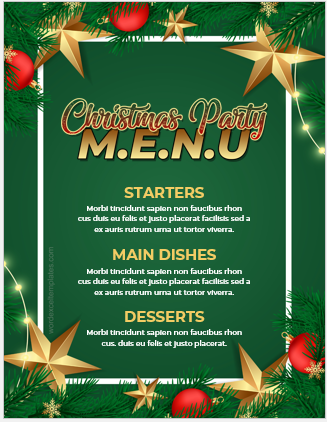 File: Word (.doc) 2007+ and iPad 
Size 2MB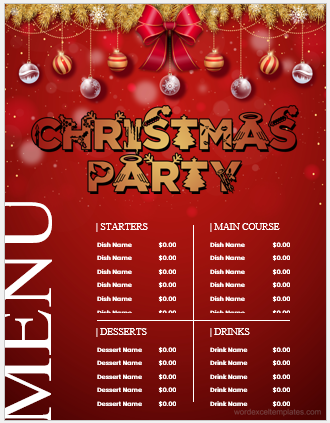 File: Word (.doc) 2007+ and iPad 
Size 3MB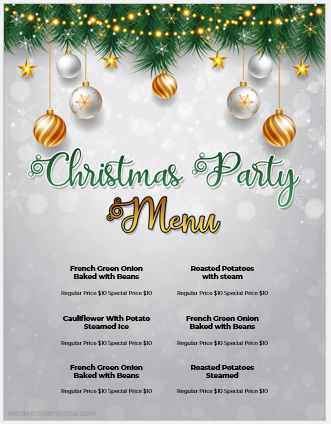 File: Word (.doc) 2007+ and iPad 
Size 4MB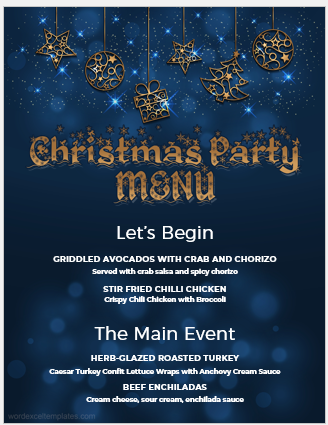 File: Word (.doc) 2007+ and iPad 
Size 3MB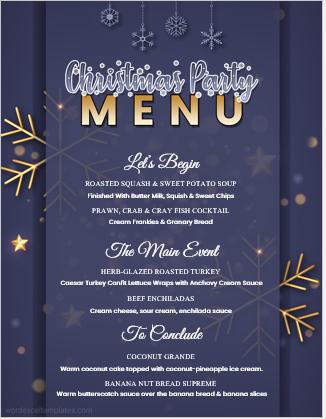 File: Word (.doc) 2007+ and iPad 
Size 2MB
File: Word (.doc) 2007+ and iPad 
Size 80 Kb