Thanksgiving, Invitations & Meal Planners
Thanksgiving is one of the most special times of the year. This is the event where people from all around the world gather around and spread happiness as a way of thanking the lord and the universe for all the blessings they have received. Thanksgiving is the day where families and friends gather around for lunch or dinner and share a big and hearty meal. This meal is prepared by the host and is planned a good one or two weeks beforehand. This is due to the fact that there is so much to do on the big day that one just doesn't want to spend the whole day in the kitchen all sweaty and not spend time with loved ones. To make sure that one doesn't spend the day in the kitchen over the stove, it is best to make a thanksgiving meal planner a good week before the actual day.
To make a thanksgiving meal planner, first of all, list down everything that you want to make. It should include all the things (big and small included), from the sauce to the turkey, NOTE DOWN EVERYTHING! This is because when you've noted down every dish that you plan to serve, planning them becomes an easy task. Note down your dishes according to the way you will serve them. For example, mashed potatoes and nachos as an appetizer, turkey and lamb sandwiches and etc. for lunch and ice-cream, pie, cake and truffles for dessert.
You can divide your thanksgiving meal planner into courses (appetizer, lunch/dinner, and dessert) and then list down all the dishes under the respective headings. After noting down, you can also make a mini grocery list next to each dish as well. For example Cake – need flour and fresh eggs. This will make your thanksgiving meal planner into a multi-use planner where everything from the way you will serve your meal, to what you will serve and what you need will be included. Make sure that you don't make your thanksgiving meal planner in a hurry.
Since thanksgiving is a long and elaborate event, you don't want to hurry with the planning. This would just jeopardize your whole dinner or lunch and make the special day into a disaster. You can always make use of various colored pens to give the whole thanksgiving meal planner a very organized look. This will help you in distinguishing between the various subheadings and the important from the less important stuff. Your planner can also include the way you will set your table to the decorations you will use to adorn your table. This will take off the burden of deciding at the day from your shoulders. Also make sure that upon accomplishing a task on your thanksgiving meal planner, do not strike off the item. This would just make your list very messy and if you plan to use this planner next year also, it wouldn't be worth it. Don't strike, just stick it with a pencil so you can rub the tick later for when you use it again.
Preview and Details of Template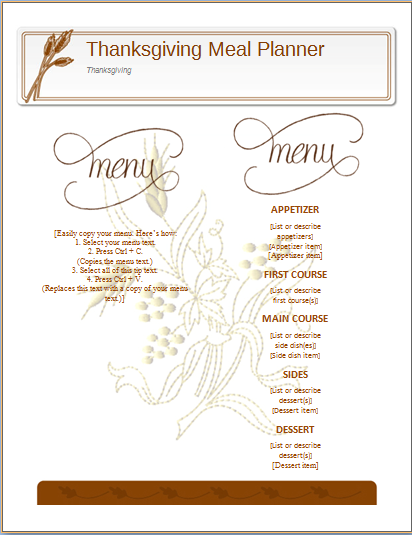 File: Word (.doc) 2007+ and iPad 
Size  Kb  237  | Download
File: OpenOffice (.odt) Writer [writer]
Size 213 Kb   |  Download
License: ENERGY  (Personal Use Only)
(Not for resale & distribution) by Kate Elizabeth(CEO)