It's that time of the year when all the festivities are around the corner. People are singing Christmas carols and starting to gather all the decorations. Many are so pumped about Christmas that they have already begun to hunt for Christmas trees.
Christmas is a joyous event where people from all around the world gather and celebrate it with their families. Gifts are exchanged and smiles are brought on the faces of near and dear ones. One of the most loving and fun traditions of Christmas is Secret Santa.
This tradition allows a group, individual, or community to be assigned an individual or a group to whom they anonymously give presents, then it is up to the receiver if he/she has correctly guessed by whom the present has been given.
Being involved in Secret Santa excel is super tough, this is because you need to be anonymous and at the same time ensure that the present you will be giving to the person is what they actually wanted. For this, you need to make a Secret Santa gift exchange list.
This list will help you narrow down the choices and help you in giving the best gift as a Secret Santa. Christmas gift exchange template is a good choice in no time.
How to start…
To start you must first make sure that you know all that is to know about the person to whom you will be giving the gift. You need to know about their personality, their hobbies, their wish lists, their activities and etc. Everything that will help you choose the best gift should be known. You wouldn't want to give them a pair of socks when they actually needed a shoe, now would you?
To start off the list, list down all the presents that you think they can like. For example, if the person is an ardent golfer, you can list down everything related to golf. Such as a new set of golf clubs, golfing accessories, a handmade or customized golf accessory with the name of the person embossed, or maybe you can treat along by giving a golf sweater or a shirt as well! Then you can list down the 'safe options'.
These safe options are such that are given when you cannot settle on a gift. These are such that the other person will be likely to like you even when you don't know much about the other person. These include a sweater, a wallet, a photo frame, chocolates, a favorite brand of wine and etc. When making a Secret Santa gift exchange list, it is best that the list is divided into various subheadings to make the list more organized.
If you're a secret Santa to a number of people then listing accordingly and in an organized way would help in Christmas shopping! Make a list of all the people that you would be giving a present to, in one word describe them, and then under each name, start listing down the potential gifts you could give them.
When you're done with this, with a different colored pen note down your final options! VOILA, you are good to go and shop by keeping your gift list template in mind.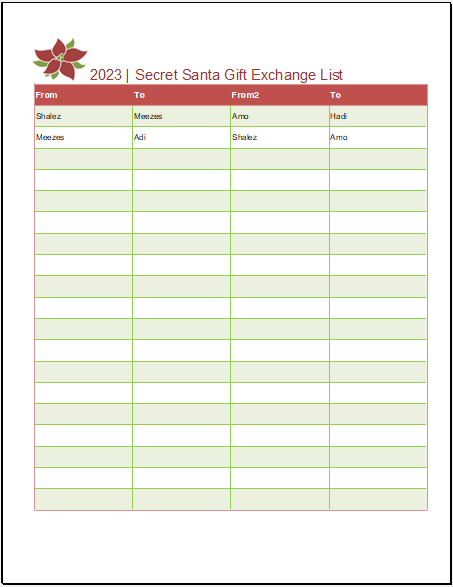 File: Excel (.xls) 2007+ and iPad
Size: 99 KB
Sample Templates