The winters bring a festive holiday season with Christmas, Hanukah, and New Year's Eve to celebrate. While you are hosting a grand lunch or dinner party, having winter holiday party menu sheets can enhance the festive experience for your guests.
Let's explore what these menu sheets are and why they are a must-have at your next holiday event.
What are winter holiday party menu sheets?
These sheets are printed or digital cards that list all the dishes, drinks, and desserts you plan to serve at your holiday event. They give your guests a glimpse of what to expect at the dinner table. This builds up excitement and anticipation that make any party a hit.
Designing a Menu Sheet for a Holiday Party
A well-designed menu sheet is more than just a list of dishes. It also shows the theme of your party. For instance, the design element can have snowflakes for a Christmas dinner or stars for a Hanukkah celebration. Moreover, using colors like gold, silver, red, and green goes perfectly with the festive winter mood.
Similarly, elegant fonts along with beautiful graphics can make the winter holiday party menu sheets visually eye-catching and pleasing for guests. In short, a well-designed menu sheet can make the holiday lunch or dinner unforgettable.
Benefits of Personalized Menu Sheets
Designing personalized winter holiday party menu sheets has the following benefits.
A professionally designed menu with personalized touches brings a fun element to your party. It makes your guests feel more special, as it shows how much effort you have put in.
When guests know what they are going to be served, they can look forward to their favorite dishes. This makes them more interested in staying at the party and enjoying it.
A party menu sheet helps you clearly list the dishes and major ingredients. This can be helpful for guests with certain dietary restrictions. They can inform you beforehand if they have an issue with the dishes so that you can make alternate arrangements on time.
Winter holiday party menu sheets are a great way to introduce your specials and notable dishes.
Since these are digital menu sheets, they can be emailed to your guests in advance. That way, your guests can inform you about their special dietary needs or make requests.
Using Templates
It might be difficult to create party menu sheets from scratch since it requires design skills as well as time. One way to make the job easier is to use templates. Many online platforms offer customizable menu templates with winter holiday themes. These offer preset graphics, fonts, and layouts. It's a time-saving way to achieve a professional look without hassle.
Adding a Personal Touch
Whether you are designing the menu sheets from scratch or using templates, you can always add a personal touch. For instance, instead of simply listing down the menu items, you can add a short description with each item, mentioning why it is special. This will make your party more memorable.
#1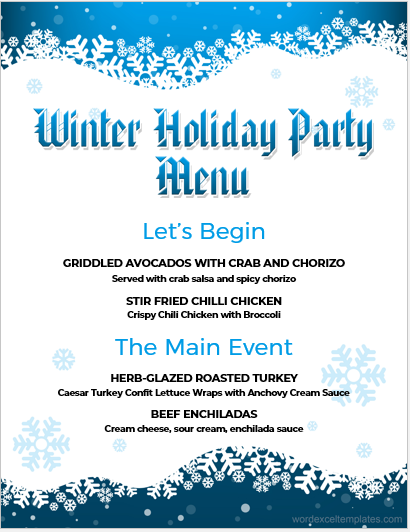 #2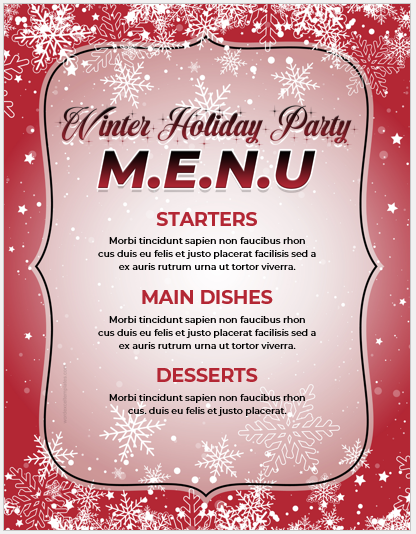 #3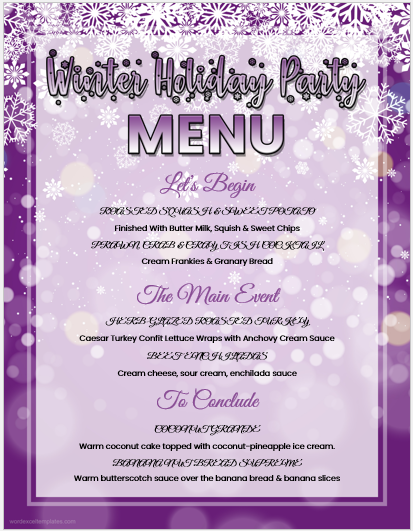 #4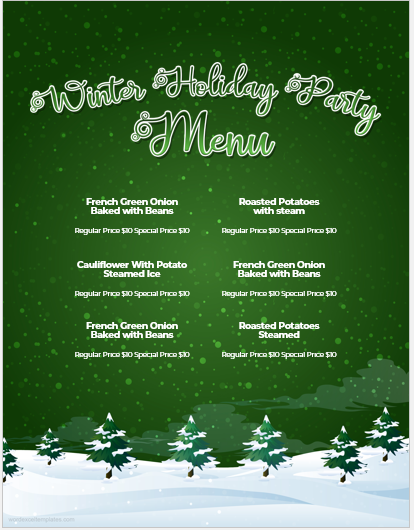 #5