Halloween takes us into the history of old pagan traditions where it was celebrated on the 1st November when the summers end and the winter is welcomed to begin. Halloween was celebrated on the all saints day to pray for the saints and martyrs who are dead. Lighting up born fires is also a part of the Halloween tradition to pray for the souls who have been lost. Going door to door and asking for a treat is also a tradition which symbolizes prayers in return of the cakes and candies.
Despite the history of Halloween, it has been celebrated in almost every country these days. Halloween has different myths and concepts attached to it. For some people, Halloween is a fun time for kids when they can dress up and ask for candies. For some other people, Halloween is a night to avoid as it is the time of the ghosts and goblins.
Halloween is celebrated in various ways. People would carve the pumpkins and make spooky or funny faces on them. Halloween is a good time for a get together for the kids and the families as well. The kids have a special preparation for Halloween. They would buy special costumes for this day. And once they are all dressed the trick or treat celebration starts. People decorate their houses and it becomes easy for the kids to tell where to go and get their candies.
Halloween costumes are the new trend for celebrating this day. Special costumes can be ordered from Halloween shops. Kids decide a Halloween theme and they would buy their costumes accordingly. Different costumes are available for the kids and the adults. Halloween costume themes can also be selected from famous and new movies. The most common costumes are the witch and ghost costumes. But some other theme costumes such as star trek, harry potter, vampire diaries and Flintstones are also available.Schools organize Halloween parties where the kids and youngsters get a good chance to show their costumes. Kids with the best Halloween costume are given certificates and prizes, which adds on to the fun of the Halloween.
Schools organize Halloween parties where the kids and youngsters get a good chance to show their costumes. Kids with the best Halloween costume are given certificates and prizes, which adds on to the fun of the Halloween. Following are given some ready-made certificate templates for the best costume award. These certificates are designed by professionals using Microsoft Word software which makes it very easy to edit or customize for any requirement
Previews & Detail of Templates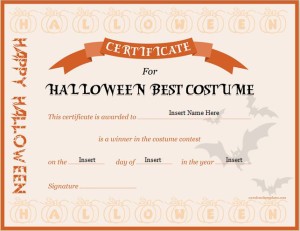 File: Word (.doc) 2007+ and iPad
Size 42o Kb   |  Download
License: ENERGY   (Personal Use Only)
[Not for resale and distribution]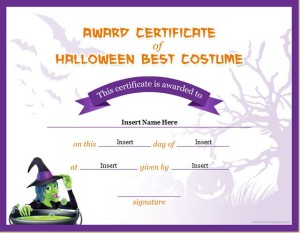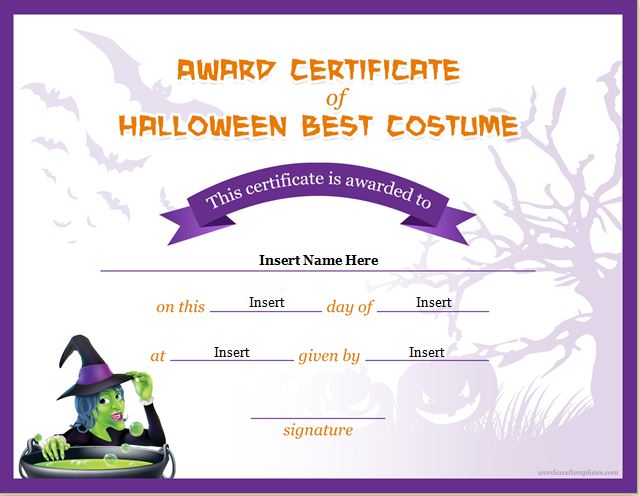 File: Word (.doc) 2007+ and iPad
Size 2.23 MB   |  Download
License: ENERGY   (Personal Use Only)
[Not for resale and distribution]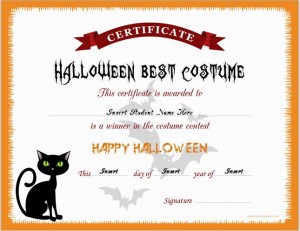 File: Word (.doc) 2007+ and iPad
Size 567 KB   |  Download
License: ENERGY   (Personal Use Only)
[Not for resale and distribution]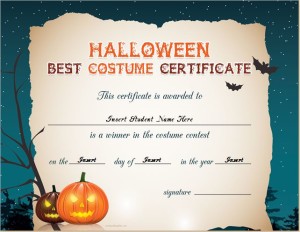 File: Word (.doc) 2007+ and iPad
Size 890 KB   |  Download
License: ENERGY   (Personal Use Only)
[Not for resale and distribution]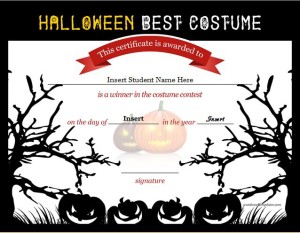 File: Word (.doc) 2007+ and iPad
Size 976 KB   |  Download
License: ENERGY   (Personal Use Only)
[Not for resale and distribution]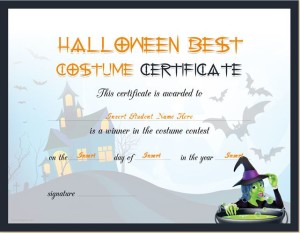 File: Word (.doc) 2007+ and iPad
Size 389 KB   |  Download
License: ENERGY   (Personal Use Only)
[Not for resale and distribution]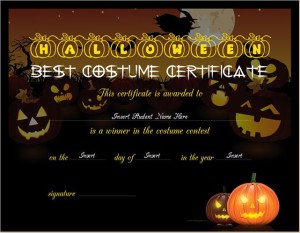 File: Word (.doc) 2007+ and iPad
Size 976 KB   |  Download
License: ENERGY   (Personal Use Only)
[Not for resale and distribution]