Puppy Ailment & Vaccination Record
Who's a man's best friend? A DOG! And to make sure that the man's best friend is in good health and lives a long healthy life, he/she needs to be vaccinated on a regular basis. Vaccines help your canine to be protected from any ailments or diseases and to prevent any kind of infectious disease from attacking your canine. Various dogs have various kinds of needs when it comes to vaccines; it differs from breed to breed along with age playing an important factor.
When you're adopting a dog, it is best to consult a vet who would better tell you what shots are to be needed and the adoption house will tell you about the prior vaccines. Usually, vaccination in canines stars when they are of 6 to 8 weeks and from then onward, you need to make a chart with the help of your vet to document the vaccinations that occur during the lifetime of your dog.
Making a vaccination chart would help you in the documentation of the shots and would give the vet an idea of what treatment will be more preferred in case your dog falls sick. The chart should contain the age of the dog, the time and date of when the shots were given and details regarding the vaccine. Don't forget to mention the age of your dog at the time he/she received his vaccination. Future vaccinations should also be mentioned along with the date which should be tick marked every time your canine receives the vaccination.
Remember; always consult your vet if you see some kind of abnormality after a vaccine day. Never ignore it by considering it an 'after-effect'.
Preview and Details of Template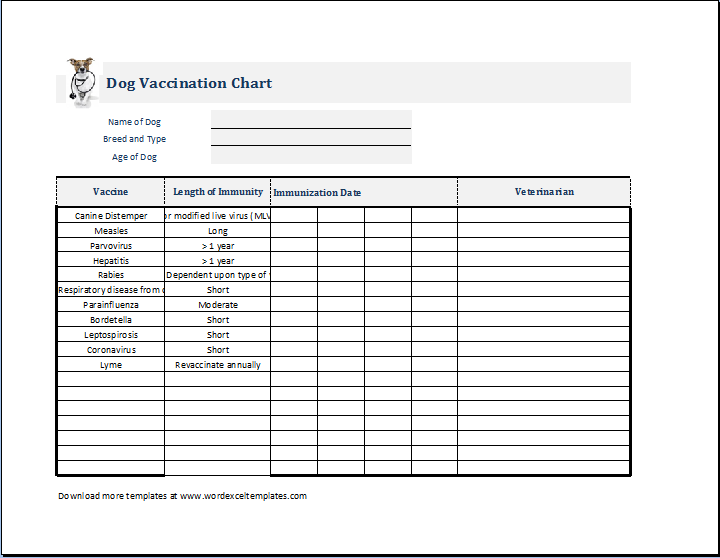 File: Excel (.xls) 2007+ and iPad 
Size 70 Kb   |  Download
File: OpenOffice (.odt) Calc [Calc]
Size 66 Kb   |   Download
License: ENERGY  (Personal Use Only)
(Not for resale & distribution) by Kate Elizabeth(CEO)