Jove Leave Questionnaires
Employee exit interview sheet serves the function of having a feedback. This is an effective mode of bringing through the time of the manager and the governing body. No consultation or appraisal, or font to face interviews would take office. Here only a piece of paper will be required and it will be over within five to ten minutes.
It is a fact that big and complex organizations do not have much time to waste, conducting interviews for every employee who is exiting the system.This is the best means to know about the reasons and emotions of the employee, and under which circumstances he took that tone.
The sheet may hold the logo and the name of the company at the pinnacle. Below the logo, name of the employee, designation, department, assigned supervisor's name and years of serving. This piece of paper may consist of graded questioners or descriptive writings.
The questions might be 'why are you resigning from the post?', 'explain the causes for leaving if any', and series of questions about the supervisor's response, questions might be asked about the job and assigned responsibilities, where the timing inhumane? Or any problem such as harassment or racism he/she might have come across.
These are such question which needs to be demanded in the exit interview. Writing is more descriptive than verbal communication with superiors and employees will feel comfortable in writing rather than speaking up. It is an efficacious and efficient method of knowing the facts and keeping time.
Preview and Details of Template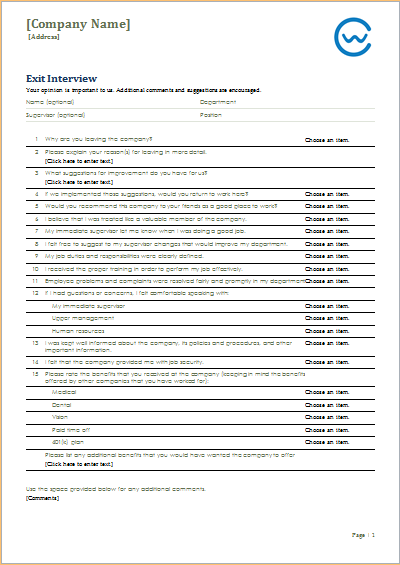 File: Word (.doc) 2007+ and iPad 
Size 51 Kb   |  Download
License: ( General Use)
(distribution) by Kate Elizabeth(CEO)