A driver log book or sheet is commonly used by the drivers to document the trips and miles he has traveled on his vehicle for a given time of period. Driver log sheet is considered an important part of a driver's life and is just like a legal diary. It is advisable to keep this log sheet with you wherever you go so that it can be updated as the journey proceeds. A well managed and up to date driver log sheet is appreciated by the authorities and can prove to be an asset for the driver as well.
Drivers are usually stopped on roads by the officers to check the mileage covered along with other details, if a driver has maintained a good, clear and understandable log sheet, it is likely that it will leave a better impression on them. Apart from creating impressions, this log sheet can provide up to date and easily understandable information without a lot of questions and hassle-free procedure.
About Template
To meet the requirement, the driver should give all the details necessary. The best way to know what's needed is to use a driver log sheet template. In this template, all the needed details will be there and spaces will be given to fill in the rows and columns provided. It may also have spaces for the name of the driver and the company in which he is employed apart from the hours he drove per day and the timings.
A few calculations may also be required, for that, it is advisable to calculate all the numeric as this is an important part of the driver log sheet. One should keep in mind that this driver's mileage log sheet relates to fuel and toll tickets as well. So, wrong calculations may indicate any fraud or misappropriation as the officers will look thoroughly and will try to find inaccuracies.
We advise you to keep this log sheet along as it would be easier for a driver to add in the details, each day rather than filling it at the end of the week.
Preview and Details of Template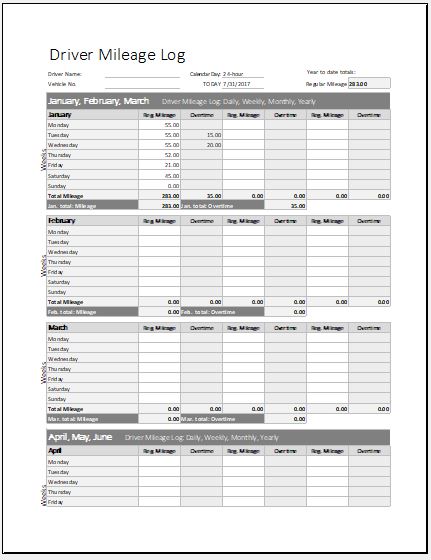 Driver Mileage Log Template
File: Excel (.xls) 2003+ and iPad 
Size 26 Kb | Download
See Also: Vehicle Mileage Log Templates
License: ENERGY [Personal Use Only]