A birthday is a very important day in a person's life and one always wants everything to be enjoyable and perfect on that day. The main problem is for the planners or the organizers that have to look after all the important details in order to make this day memorable and worthy for not only the host but also the guests. The guests arrive there at a birthday party with a lot of hope that the arrangement and management will be good enough. This is the moment of truth as the skills of the manager are tested in front of so many people.
If the birthday party planner is an organized person he will use different kinds of paper work to support and improve his productivity. One of these documents is a birthday party arrangement checklist. This is an impressive tool for all of the party organizers. This tool ensures that nothing is left out and the party is nothing but a total success.
A typical birthday party arrangement checklist is a list of things that need to be done and after the completion of each item or task; it is ticked off on the checklist. This marks the completion of things and the organizer can know that which of the tasks are completed and which ones still require work.
About Template
The most effective way of fully utilizing this birthday party checklist is to use a template for it. A template will help the managers to really organize everything and make sure that nothing goes amiss. It includes things like invitations, themes, menus, venues and ideas for decorations, etc. While organizing a party like a birthday it is very common to miss small details which may sound meaningless at the beginning but has a major impact as a whole.
So, a party checklist template can save a lot of time and energy of the organizer and this time can be utilized in enjoying with friends and guests. All the user has to do is to download it and modify a bit according to the needs of the party he is arranging.
Preview and Details of Template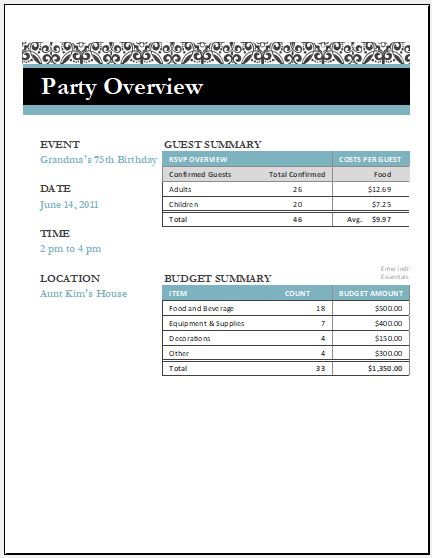 Birthday Party Arrangement Template
File: Excel (.xls) 2003+ and iPad 
Size 603 Kb | Download
Provided by: http://templates.office.com/