Nowadays people love to have pets, nourish them and take the best care of their favorite animal in the way they possibly can. Taking care of a pet is not an easy task as the owner needs to keep records of all things like proper nourishment, weather protection and most importantly the records of all the treatments and health.
Whenever the pet owner visits a vet, he may ask a lot of questions regarding the allergies or other health problems. These questions may also include details which the owner most often simply overlooks or easily forget. If the owner has a proper record or logs for pet health all the questions would be answered in no time.
Only if a reliable account of the beloved pet's health is made a good health can be ensured. For this purpose, a pet health record or log is drafted out. This pet health log is a very useful document as it keeps the owner and the vet fully aware of the health conditions of the pet in the past and the present.
For pets, it is necessary to keep on checking their health issues and the medications. This record can keep all types of diseases at bay in the pets and the owner, as well as a lot of diseases, can pass to human easily. Another good use is that if a situation arises, the vet can identify it soon and it can be solved in time. The idea of using a pet health log is excellent and is used by a lot of people now.
The easiest way to make this 'pet health log' is to use a template. A template can save your time and a lot of effort as all the owner needs to do is to fill in the details. A typical template comes in the form of columns and rows. At the top of this sheet are space left for the name of the pet and the owner, the sex of the pet, its age, type and other such general information. The columns may be divided into further sections like vaccination, medications, known allergies and vet visits.
Preview and Details of Template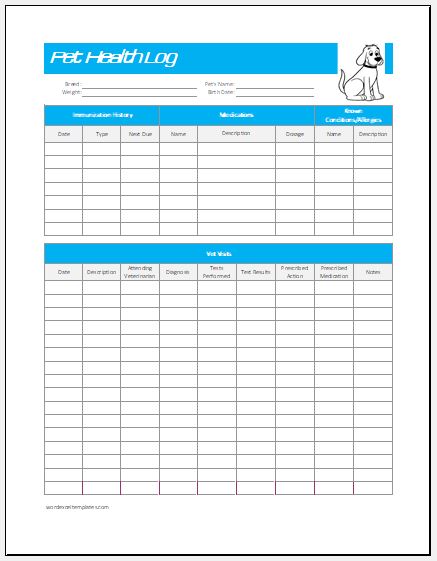 Pet Health Log Template
File: Excel (.xls) 2003+ and iPad 
Size 40 Kb | Download
License: ENERGY [Personal Use Only]