A potluck is a feast or party in which each of the guests put in a dish as a contribution to the party. These parties, dinners and get together may sound amazing as this can be a real treat for party lovers. But, the real victory of the planner is when everything remains smooth and hassle free.
This potluck can prove to be very tedious and difficult if no proper management skills are shown by the manager. A lot of paper work like checklists, organizers and specially potluck signup sheets are made in order to keep this party enjoyable by all.
These potluck signup sheets are basically used by the organizers in deciding the kind of food that each guest will be taking along. This is a very simple sheet yet has excellent benefits to offer. By using this potluck sheet, this can be ensured that all the main components of the party are covered and that nothing is piling up.
Imagine an event in which you were supposed to bring something for everyone to eat, yet you have no idea that what others are bringing and what should you bring for them. Yes, the only solution to this problem is to set up a potluck signup sheet. So, this sheet also helps in avoiding too many chips or not much mains in the function.
About Template
The easiest way of following this amazing solution is to use a template for potluck signup sheet. This template will allow the user to only fill in the details and not making it up from the scratch. A typical potluck signup sheet has spaces left out at the top for the venue where the party will be conducted and the time the guests are to arrive. After this, the sheet comprises of some rows and columns. Each column will have something to address like in one column the participants will write up the name of the dish they will be bringing and one for a number of people it will feed approximately. To make it binding they will be given a column in which they have to sign in front of their dishes along with the contact details.
Preview and Details of Template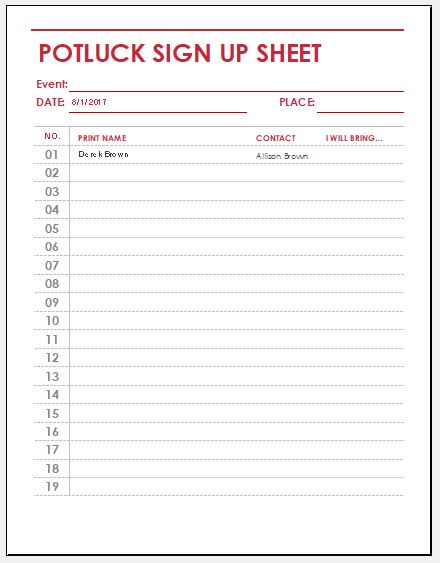 Potluck Sign Up Sheet Template
File: Excel (.xls) 2003+ and iPad 
Size 40 Kb | Download
License: ENERGY [Personal Use Only]
See Also: