A monthly mileage log as the name suggests, records or tracks the miles a vehicle has run in a month. This log is commonly used by most of the drivers to claim deductions on the tax returns or to keep general records of the driving. These records can be kept for daily or even weekly time period, but a monthly mileage record is most useful and it also helps in audit records. For keeping systematic records, logs are regularly updated.
A user who wishes to keep a monthly mileage log does not need to draft everything by his own he can simply use a template for it. In today's world where everything is fast moving and almost everything is available on the internet, the user must avoid the hassle and should simply get a template. The templates are already drawn logs in which only a few modifications are needed.
The other benefits of a monthly mileage log are that the vehicle can be kept in proper, fit and perfect condition. As this is a book in which the mileages covered in a month are recorded, so the time due for a tire change or the brake oil refill and other such details can be closely monitored.
We all know that in order to keep a vehicle in perfect running conditions, a lot of such details need to be kept in proper view. This means that a monthly mileage log can act as a fitness guide of your vehicle. If a template for this log is used by the user, it may look professional and will have all the necessary details already written in it. This will make the use of logs very easy and the purpose will indeed be fulfilled.
A typical monthly mileage log consists of a few details like the time period to which the log relates. In this case, it would be the name of the month. The date on which the trip started should be mentioned along with the date on which it was ended. The mileage point when the trip started along with the point when it was ended is mandatory to mention. Other details may vary with the requirements of the user.
Preview and Details of Templates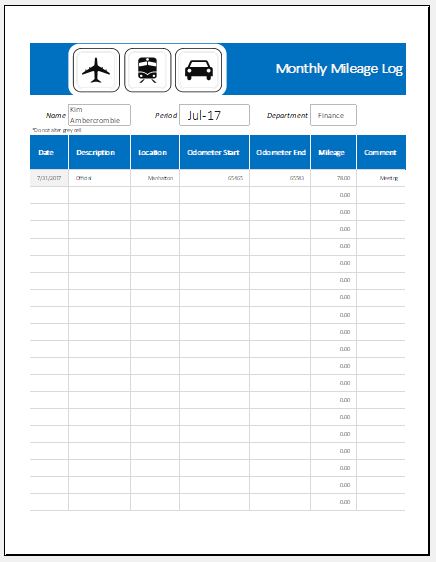 Monthly Vehicle Mileage Log Template
File: Excel (.xls) 2003+ and iPad 
Size 36 Kb | Download
View: More Mileage Log Templates for MS Excel
License: ENERGY [Personal Use Only]