Reserved signs are very common signs usually seen in parking lots, restaurants, or events. This sign simply marks the place it is placed and it clearly indicates that no one else is allowed to take the reserved area, table, or seat as someone has already marked his rights over it.
In some places, these signs were put on the seats to honor the special guest and in others, this sign may indicate the already booked area.
This reserved sign may have many purposes to be used, but there is no criterion that needs to be fulfilled while drafting this special sign.
The event manager or the individual using this sign must keep in mind that the sign should look reasonable and must be readable. For this purpose make sure that the font style chosen is comprehensible along with the color theme and reasonable font size.
In order to avoid all such mess, people simply go for a reserved sign template where just a few modifications can give the needed results.
For example, if a person wants a reserved sign to display on a restaurant table, he can use a plain template reserved sign sheet with a light background and can add the logo of the restaurant along with the number of the sign. By simply adding a few details, a reserved sign can be made easily.
The reserved signs which are a bit more complicated than the ones used in functions and are placed or hung on a table or chair may need more work so the event managers always use templates for it.
The signs may bear the name of the guest on the front side of it and it may be folded with best wishes and table number written on the inner side of it. Or it may be following a different pattern.
The person in charge can find the templates he likes. To prevent this reserved sign from being torn or wet, it is usually laminated from both sides and is used in everyday practices. By doing so, it can become reliable and can be used for a longer period of time over and over again.
Preview and Details of Template
RESERVED Sign Templates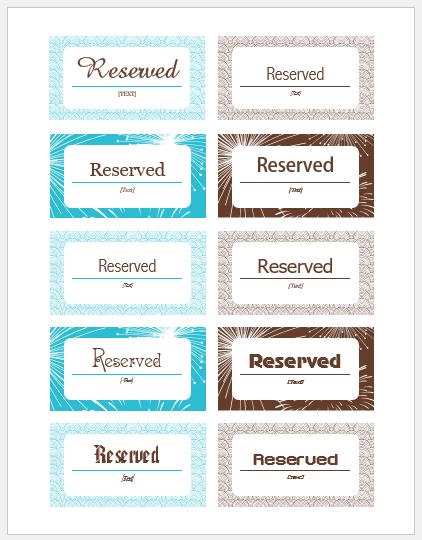 File: Word (.docx) 2007+ and iPad
See also: