A trailer is basically a large transport vehicle which is unpowered and is mainly designed to be towed or hauled by another vehicle, a truck or tractor. As it is said that it is a vehicle so if someone wishes to sell it or transfer the ownership he needs a bill of sale as a proof or document of evidence for making the transaction secure. It is usually a legal requirement in a transaction of a trailer, but it is advised to the buyer to ask specially for this bill from the seller as it is an important document for both of the parties.
For effective measures, a trailer bill of sale is commonly used by the masses as it is a simple legal document which may be needed as an evidence of the sale and purchase transaction signed by both the parties. This tool settles the majority of the disputes or differences that may arise between the parties to this specific transaction.
Using a template for such an important document is always a wise decision, but it must be kept in mind to change the terms and conditions according to your own deal. As a template may only offer the guidelines or the pattern a legal or professional trailer bill of sales should follow.
A typical trailer bill of sales template has spaces left out to fill and should have the name of the buyer and the seller, their contact details and the date of transaction etc.
The trailer bill of sale has many important benefits to offer like it ensures that all the terms and conditions that were defined or were agreed upon by the parties were fulfilled by them and the same amount is paid by the party that was decided. Apart from that this bill allows the seller to avoid any liability that may have arisen if any accident had happened. For the buyer, it plays a role as a proof that the ownership or the legal title of the trailer is transferred from the seller to the buyer and it may also verify that the trailer was guaranteed to be in a particular state.
Preview and Details of Template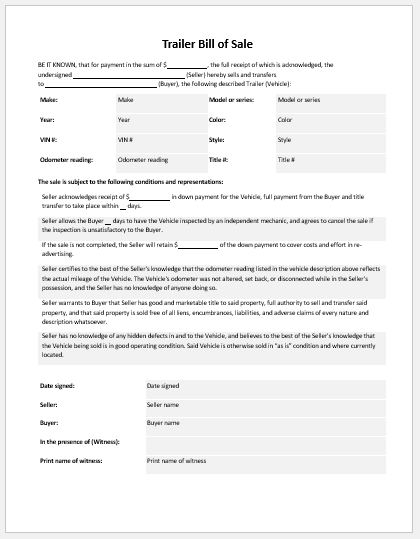 Trailer Bill of Sale Template
File: Word (.doc) 2003+ and iPad 
Size 42 Kb | Download
License: ENERGY [Personal Use Only]
A bill of sale template with terms & conditions already mentioned.
---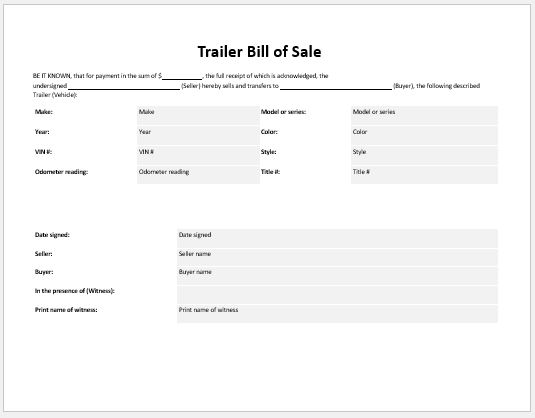 File: Word (.doc) 2003+ and iPad 
Size 42 Kb | Download
License: ENERGY [Personal Use Only]
This is a simple bill of sale template without terms & conditions mentioned.