All companies want to keep customers and gain consumers as well. For this, it is necessary to inform them of any changes, especially in location. Sometimes a business may need to change locations due to some issues or they may have found a better place to advance themselves. It is important to inform clients of this change in address so that they know where to contact you when necessary.
What is a company address change letter to customers?
A company address change letter to customers tells people if there is any alteration in the address of the business. It gives the exact address of the new location.
The letter is necessary if you wish to keep customers as it shows them that you care for your consumers. You wish to let them know when you are moving so that they do not face problems in visiting you. If you do not tell people about this change, they will arrive at the old address and be disappointed that you are so careless that you were not interested to inform your clients of the change.
This is a formal letter that should provide all details carefully. Type it properly with a readable and professional font. The following points can be kept in mind:
Address where the letter needs to be delivered to– The address of the recipient has to be given clearly at the top. This is if you are sending it to only a few people and sending a hard copy. You may be sending an email to many people whereby it will be tough to state everyone's location and name individually.
Date– Provide the date so that people know when you have written the letter to inform them of the alteration.
Address the recipient- Address them with "Dear" as this is a professional letter. Show them that you respect them. If you are sending it to many people, you can say "Dear customer" rather than having to write the names of all separately.
Keep it simple and to the point
People do not have time to read useless information and details. Some people simply scan letters to get an overall idea. Do not waste time simply state that you have moved, and this letter has been written to inform you of this. You may want to briefly inform your clients why you have decided to pursue this change. This will help make them loyal, however, this point is not necessary.
The change may be due to your finding a more central location or one where you can provide extra services. It is simply helpful to tell people about the change if you want to.
New address– State the new address carefully providing the company name, address, city, etc. Inform them whether the telephone number will change as well in case they have to contact you wherever needed. Tell them to save the new details and contact you on this when required.
Ending– End by thanking them for their cooperation and with "Sincerely". Type your name and give your signature as well.
Wording– Do not include playful and childish words in the letter. It is a formula one and so formal language has to be used. You need to make your customers not see you as being immature. Keep it short and use serious and professional language.
It is not necessary to make the letter long. It can only be some lines and two paragraphs. Include the details of the new address carefully without any mistakes. The above points can be kept in mind when creating the letter.
Make it informative allowing people to know clearly what it is about. The new address should be written properly and without any difficulties so that people can reach you easily. It is better to provide a contact number so that you can be contacted whenever required or if there is an issue with the change.
Sample Letters
1-
Subject: Company address change notification
This letter serves as a notice to all honorable customers of our company that we are relocating to a new place.
We enjoyed doing business with you and no doubt, it was due to your loyalty to our company that fueled our growth, caused a remarkable growth of our business, and expanded our trade to maximum level thereby stimulating us to move to a better place with more space for the accommodation of a large number of products and a bigger parking lot as well.
This relocation was essential to serve you all in a better way. Have trust in us because our service standard is not going to be affected at all rather it will increase manifolds by virtue of the large space.
It may kindly be noted that from now onward, all communication will be carried out on new letter pads of the company with changed address.
We are closing our current company office on 29th of July, 20XX to initiate the shifting formalities and shall reopen at our relocated place on 31st of July, 20XX. During the shifting process, we shall keep our website, email, and telephone functional so that you may not experience any difficulty. Meanwhile, no delay in our production and shipping process will be observed.
To celebrate our expansion, we are offering a 50 percent sale off our various products from 5th August to 12 August. This offer has been launched specially for our valued customers like you. So, come and avail this unique opportunity and at the same time, we are looking forward to the same level of loyalty as before.
Our new address will be:
[Write address]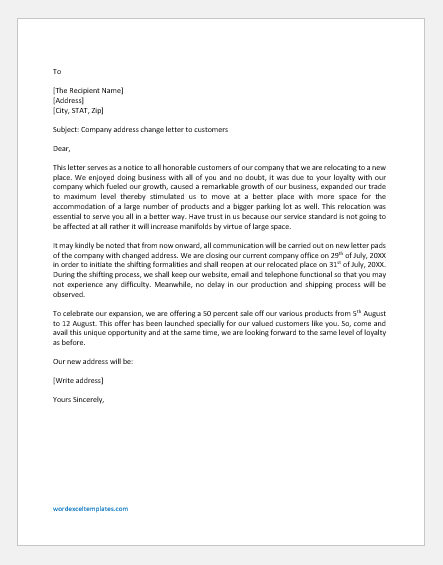 File: Word (.docx) 2007+ and iPad
Size 21 Kb
Download
---
2-
Date
Company Name
[Address]
[City]
Dear [Name of recipient],
This letter aims to tell you that we have moved our location. The new address is:
New Address
Company name
Address
City
The telephone number we had before will be the same so you can keep that data with you:
[Telephone number]
It is advised that you alter records and save this information. Wherever you need to contact us, please do so at the above-stated new address.
We hope this does not cause any inconvenience for you and hope to do business with you.
Sincerely,
[Your Name]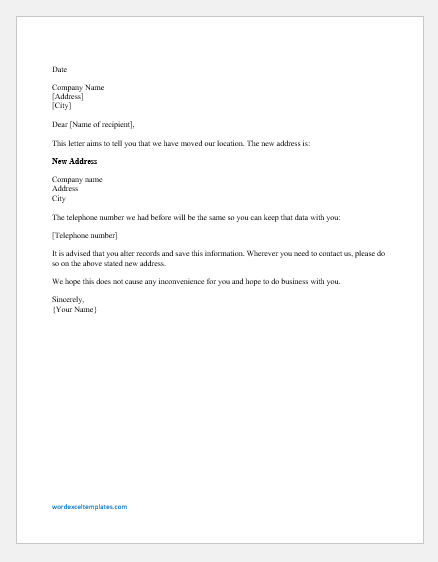 File: Word (.docx) 2007+ and iPad
Size 21 Kb
Download
---