A donation request letter is written to organizations, individuals and government to generate donations for a cause. The request letter is an invitation to people to donate. Donations may be invited as money or in kind. Mostly donations in money are preferred so the charity organization can spend it as required on the needy. However, often organizations also request donations in terms of clothes, medicines, books, and food.
Donation requests are made by charity organizations collect funds. These funds are used to help the needy. Churches also frequently ask for donations. Churches need donations for many reasons:
To help the poor and needy
To give shelter to homeless
To provide food and clothing for orphans living in the church
To collect funds for another organization or cause
Church donations may also be used for the maintenance of the church and to pay wages for church staff
Churches need donations because they are carrying out many diverse functions which require both donations in monetary terms as well as in kind.
Most churches are operating on charities alone. However, some churches also receive government grants. Some churches may also have small business units that they use to generate funds for financing the church building and maintenance, church expenses and church-run schools or orphanages.
See also: Donation tracker template
Sample letters
1- Church donation request letter to Government.
From:
Subject:                Donations request for church
To Respected Counsellor,
By the will of God, [church name] has been helping the poor and homeless since its setup in 1967. The church has long been using its lands for giving shelter to the homeless. These shelters have been repaired several times, however, now the units are in poor condition and deemed beyond repair. The church proposes to replace them with new structures that can give shelter to more people who are homeless and cannot afford a shelter on their head.
I, on behalf of the [church name], am writing to request donations for this purpose. We are inviting fellow believers and especially the government to donate for this noble cause. The new structures are estimated to cost almost $125,000/-. We hope the government will support the Church as it has done numerous times in the past.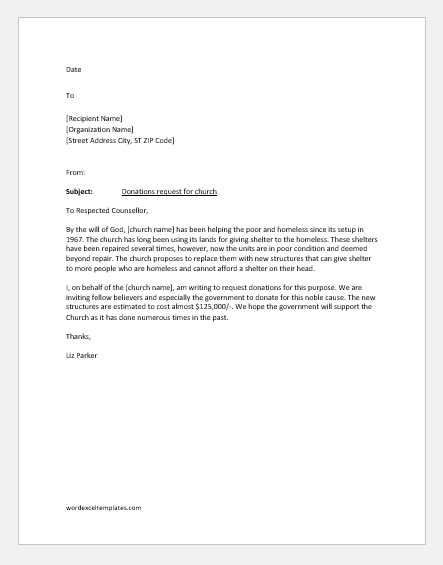 2- Church donation request letter to an organization
From:
To [organization name]
Subject:                Request for donations
Respected sir/madam,
For the past 3 decades, the [church name] has been committed to providing relief in flood-struck areas in [area name]. Every year, floods destroy the lives and livelihoods of hundreds of families leaving them traumatized and desolate. The [church name] actively works to rebuild the lives of some of these people by providing food, clothing, and shelter.
In the past two years alone, the church has helped some 240 families continuously while they figure out a way to rebuild their lives. Most of these families consist of women and children. For this purpose, the church actively seeks donations. Please generate benevolently in the name of God and play a part in reducing the suffering of the underprivileged.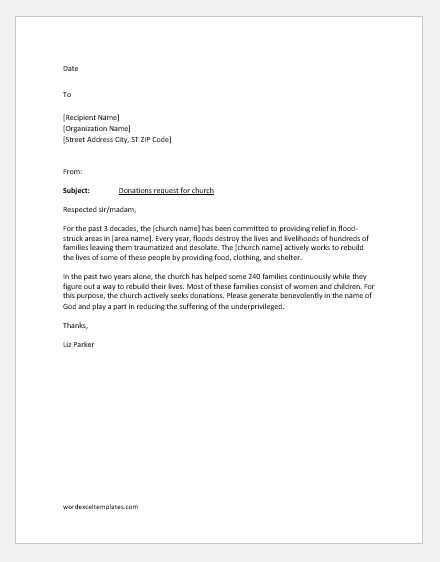 3- Church donation request letter to a company/business/individual.
From:
To [business name/ individual]
Subject:                Request for donations
Dear [name of individual],
By the blessings of our Lord, we at [church name] continue to serve humanity as much as we can. The [church name] helps arrange marriages for the poor in addition to taking orphans in its care and supporting for the education of the poor who cannot afford to pay school expenses. For this purpose, the church has a special fund. We are writing with a request to all God-fearing Jesuits to donate to this fund charitably. Help from people like you will enable the church to continue to foster the dreams of the poor and needy.
The Lord has given us all the responsibility to look after those less fortunate than us. Let us come forward in fulfilling our duties towards them and play a small part in creating happiness. We are accepting donations in both cash and kind. We hope you will play an important role in this drive by donating generously.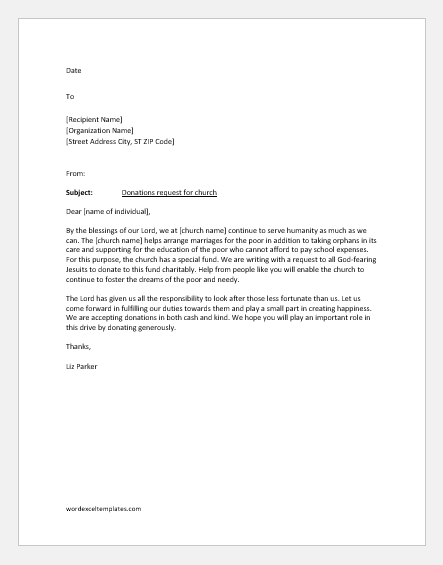 See also: Donation tracker template