Re. Letter of Proposal for Canteen Services w.r.t. Canteen Services Requisition Dated [mention the date]
Dear [Name of the Client], this letter serves as a proposal letter in which I am writing to propose our services for canteen management. We are a team of more than fifty members of different cadres who are up for providing canteen services to your organization. We are pleased to write this letter of proposal to you and offer our services of providing meals, beverages, and snacks for your organization.
We have a team of experienced staff who cook very tasty meals and have a range of different recipes for different cuisines. We understand the latest trends and healthy lifestyle requirements of our clients to provide them with the needful service. We have been working in the field of catering, cafeteria services, and cooking for more than [number of years] years. We have been providing quality and healthful meals to our clients by introducing new cuisines and flavors.
We believe in strong management of services, quality of our service, and value for money in our business. We provide customized meals and snacks according to the requirements of our clients. Our staff is efficient, friendly, and very professional. We have invested a lot of time in training our staff on dealing with the customers and clients. Our customer care has more than 95% positive reviews.
Our prices are relatively low compared to the canteens providing similar services. If you want to collaborate with us on this project, we can negotiate further on the pricing of the project.
If you want to sign this project with us, please schedule a meeting so that further project-related discussion can be carried out. If you have any questions related to this project, do not hesitate to reach out to our Client Coordinator at [phone number] and [email address]. Thank you for considering us.
Regards,
[Name]
[Designation]
[Name of the Company]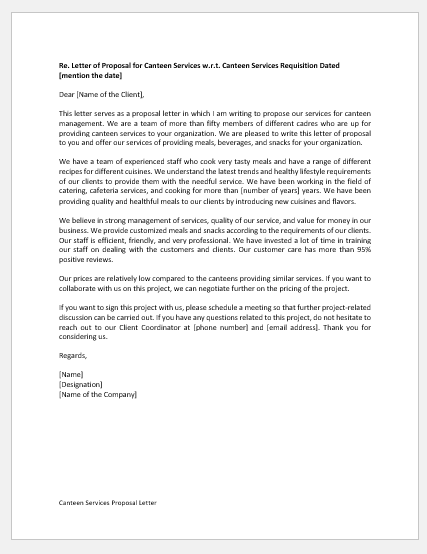 #2
Re. Canteen Services Proposal
Dear Client,
I am pleased to know that you have asked for a proposal letter and are considering our services at your institute. We have been providing canteen services to different schools, offices, and companies since 20[XX]. We are delighted to share with you that almost every client has been very satisfied with our service including structure, staff, and meals.
We provide a range of different meals and provide package meals, i.e., a meal box in which we include more than two different meals. We provide breakfast and lunch services to the clients, however, if the office has a night shift, we can provide dinner service as well. We provide customized meals and our menu has diverse cuisines.
We have many healthy eating options as we also provide meals that are keto-friendly, gluten-free, and low-carb. Similarly, we have different meal sections on our menu and we provide a range of different foods for each category.
Moreover, our staff is efficient and professional. They are well-trained and take much care of cleanliness. We have toll-free numbers where a customer can call for complaints and suggestions. We take a review of our services from the consumers every month so that no time goes without improvement.
Our prices depend on the services you select. Therefore, to know more about prices, we can arrange a meeting of both parties. Please let us know at your earliest convenience when our representative can meet you in person and discuss the required budget.
If you have any questions, do not hesitate to ask. We would love to work with you on this project and looking forward to a positive response from you. Thank you.
Regards,
[Name]
[Company Name]