Biodata is a document that holds a complete information of a person from his childhood to the present. The information may include his educational details, any accomplishments, employment history, etc. in short, the biodata is a person's complete life at a glance. The answer to exactly why a person would need to draft this biodata form is very simple. Usually, companies ask for the bio-data forms in the job offers as a mandatory document to be submitted by the applicants.
Biodata form is basically a short form of the biographical data that contains the all or at least important facts of a person's life in it. These facts on a paper can make the recruitment process a lot easier and hassle-free. However, bio-data forms are used for a lot of different purposes as well. It basically includes details like the full name of the candidate, his date of birth, father's name, height, marital status, address and contact details, etc. We all know that this information is very commonly required by almost all the departments or institutes wherever a person go.
A biodata form is a very reliable tool that estimates one's future performance based on their past one. As the general detail of an applicant and his work experience will also be included in this form along with his skills, occupational history and interests, and hobbies. This can give a very good background of the applicant.
A complete compilation of the person's overall life can make the recruitment and the final process of staffing of the prospective employee before making the final choice between the applicants. This shows that a good and professional looking biodata form can earn you a job.
A professional writer can write a good bio data with no problem, but a freshman needs a good format to follow if he wants to make an impression. For this purpose, a template biodata form can be used. The template will follow a professional and stand out style of a form that will only need modifications and filling of form to make it presentable.
Preview and Details of Template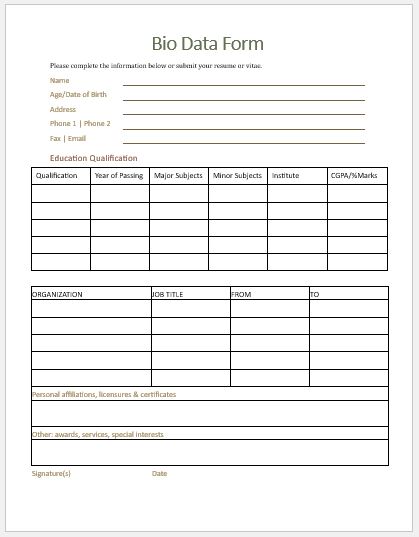 Bio Data Form Template -1
File: Word (.doc) 2003+ and iPad 
Size 31 Kb | Download
No. of pages = 2
License: ENERGY [Personal Use Only]
---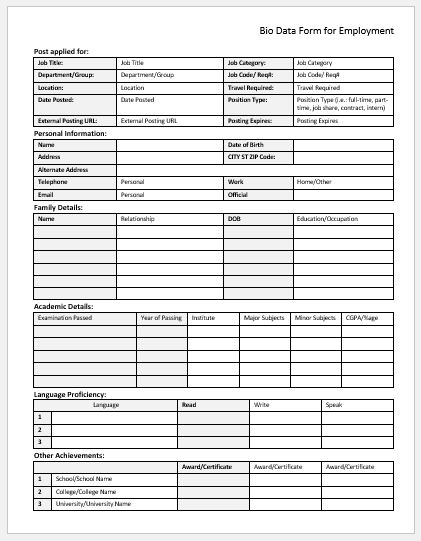 BioData Form for Employment
File: Word (.doc) 2003+ and iPad 
Size 63 Kb | Download
License: ENERGY [Personal Use Only]
---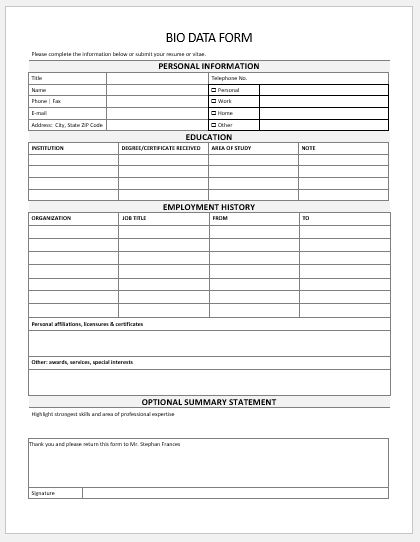 General Bio Data Form
File: Word (.doc) 2003+ and iPad 
Size 41 Kb | Download
License: ENERGY [Personal Use Only]