When you have behaved rudely with your co-workers or anyone around, writing an apology letter can help you build a strong relationship with them. Making mistakes and acting non-professionally while you are at your work is very common.
Everyone makes mistakes intentionally or unintentionally. Writing an apology letter to your boss after you have made a mistake is also very common. It can be a little hard for you to write an apology letter in your professional life because it requires you to mix your personal feelings with professionalism.
Some people believe that apologizing will show that they are weak. However, it is not true. Apologizing at your workplace shows that you have capable of identifying your errors and that you have enough potential to put some effort to fix those issues.
The first thing about apologizing at your workplace is that you should apologize as soon as you can. There should not be any excuse for the mistake committed by you. "but", "if" and similar phrases should be avoided while writing an apology letter.
It should also be explained in the letter how you will be improving your unprofessional behavior. You should take responsibility for your mistake and sincerely apologize for it. Tell the reader that it will not happen again. Please feel free to share what you have in your mind.
The following letter can guide you to write an apology letter in case you need it in the circumstances.
Apology letter for unprofessional behavior:
Dear [Recipient's Name],
I am writing this letter to apologize for my unprofessional behavior. I was very stressed because of the work pressure. However, I don't think that it can be an excuse for my bad behavior. I know it's very upsetting to see disrespectful behavior from someone who should serve you.
I hope that you will forgive my bad behavior and ignore my mistake. Please forgive me this time and I hope that this will not affect our relationship. I assure you that I will surely not repeat this mistake.
I am looking forward to your reply.
Preview and Details of Template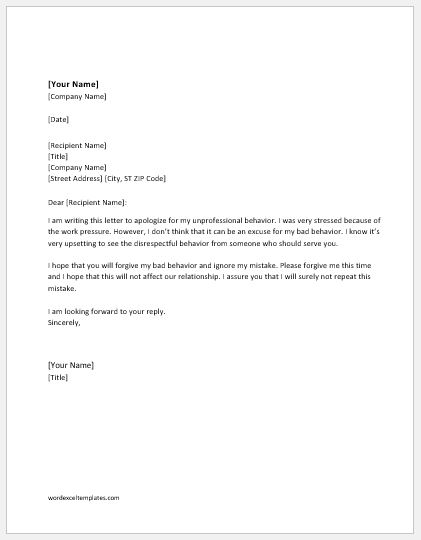 Letter -1
File: Word (.docx) 2003+ and iPad
Size 31 KB
2-
Dear sir, I am deeply remorseful and apologetic while writing this letter to you. I am writing an apology for my unprofessional behavior aggravated by the sheer negligence at the project management of [PROJECT]. I understand my negligence and fault, therefore, I request you provide me a chance to recompensate.
Sir, in the previous month, I suffered greatly in my private family life. I had to look after my three-year-old son alone and could not find a babysitter for him. It was a terrible month and therefore I made many blunders at work. First, I was not able to focus on my work, and thus the project we were working on, did not make well.
Moreover, due to my commitment to my son, I was less focused at work and more irregular with my schedule. Both these things contributed to making my profile low. The performance appraisal of [MONTH] stated me in the B category by labeling my attitude at work as 'unprofessional'.
Owing to my citation stated above, I apologize for my unprofessional behavior. I have arranged a babysitter to look after my son. I am also considering a daycare center for my little son in case of any further inconvenience. Sir, I am really embarrassed for the inconvenience I brought to you; therefore, I am looking forward to the approval of my apology from you.
I shall be greatly thankful to you for this. Thank you.
Best Regards.
3-
Re. Apology for Bad Behavior
Dear Mr. [NAME], I am [NAME] from the Department of Employment Affairs (DEA). I am writing to apologize for my bad conduct to the employees incited by unconditional stress and workload. I received your email reprimanding me yesterday, therefore, I am writing to apologize and explain my place.
Sir, as you know recently, we did some major changes in the internal structure of the company. The organization was restructured completely in which major positions were shuffled and reassigned. Owing to these changes, many other changes were made in the servers of employment affairs and solution management.
The period of restructuring and salaries collided on the same days; therefore, I forwarded a notice to everyone that the salaries could be three days late owing to the changes. It caused a lot of inconvenience to many, and they got unprofessionally rude. It incited my bad behavior and I spoke harshly in my defense. Furthermore, I was spoken ill by some executives too for delaying the salaries.
Sir, I did not do it intentionally, therefore, I plea for your forgiveness. I understand that I should have stayed calm and tried my best to ensure a peaceful environment. The sole reason behind my defensive harsh remarks was the workload, stressful environment, and intolerance towards the remarks of other employees.
I understand my duties and the work pressure I must be able to handle carefully and professionally. I apologize for my bad behavior and reassure you to never do that again. Thank you.
Regards.