When you have behaved rudely with your co-workers or anyone around you, writing the apology letter can help you build a strong relationship with them. Making mistakes and acting non-professionally while you are at your work is very common.
Everyone makes mistakes intentionally or unintentionally. Writing the apology letter to your boss after you have made a mistake is also very common. It can be a little hard for you to write an apology letter in your professional life because it requires you to mix your personal feelings with professionalism.
Some people believe that apologizing will show that they are weak. However, it is not true. Apologizing at your workplace shows that you have capable of identifying your errors and you have enough potential to put some efforts to fix those issues.
The first thing about apologizing at your workplace is that you should apologize as soon as you can. There should not be any excuse for the mistake committed by you. "but", "if" and similar phrases should be avoided while writing an apology letter.
It should also be explained in the letter that how you will be improving your unprofessional behavior. You should take the responsibility of your mistake and sincerely apologize for it. Tell the reader that it will not happen again. Please feel free to share what you have in your mind.
The following letter can guide you to write an apology letter in case you need it in the circumstances.
Apology letter for unprofessional behavior:
Dear [Recipient's Name],
I am writing this letter to apologize for my unprofessional behavior. I was very stressed because of the work pressure. However, I don't think that it can be an excuse for my bad behavior. I know it's very upsetting to see the disrespectful behavior from someone who should serve you.
I hope that you will forgive my bad behavior and ignore my mistake. Please forgive me this time and I hope that this will not affect our relationship. I assure you that I will surely not repeat this mistake.
I am looking forward to your reply.
Preview and Details of Template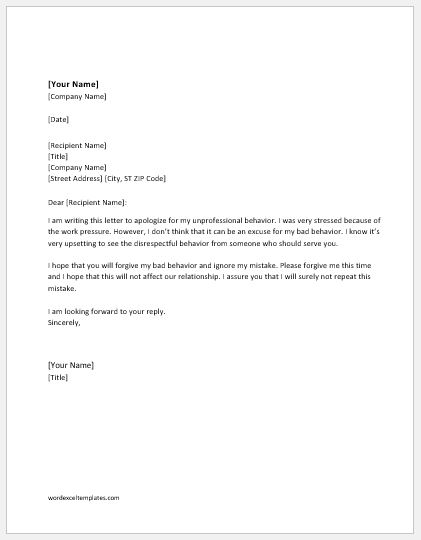 Apology Letter for Unprofessional Behavior
File: Word (.doc) 2003+ and iPad 
Size 31 Kb | Download
License: ENERGY [Personal Use Only]