Sample #1
I amende honorable for driving by breaking traffic rules. Although it was unintentional it is sincerely confessed that it caused intense damage to the car I had hit. I was driving fast that day and was striving hard to reach the hospital as soon as possible. My wife was admitted there after being injured. In a state of consternation, I violated the rules which resulted in a huge loss.
I am a government employee and my job will be at higher risk if you sentence me to jail. Considering my condition, please downgrade my offense to a less serious one so that I would avoid more embarrassment. Your approbation will be highly acknowledged.
Sample #2
I sincerely apologize for violating traffic rules due to fast driving that resulted in a terrible accident. All this happened so suddenly that I could not apply brakes and I did not do it on purpose. Please take into account my pardon as I am a very dedicated and true patriot and did not preordain to break the country's law.
I have discerned that I am blameworthy and feel contrite for not sticking to the rules. I have committed a somber crime that took the life of two precious dogs and mere sorry is not enough. I am not justifying myself but I plead to consider my excuse. I am apologetic for this and assure you I do not do this again.
Sample #3
I cannot express my embarrassment in words after driving offense. This is something I never wanted to be involved in. I belong to a famous business family and my name is being highlighted in newspapers across the country. My father had gifted me a car and I, filled with excitement, crossed the speed limit while testing its various functions. I sincerely acknowledge my mistake and reassure you to avoid such a shameful incident in the future. Please accept my apology and give me a chance to rectify my behavior.
Sample #4
Respected sir, due to the serious consequences of my shameful action, I am sorry for the sad incident that resulted due to offensive driving. Although the child got minor injuries it was embarrassing for me to be arrested publicly. After going through the rehabilitation program, I have learned not to drive after drinking. My job demands extensive traveling. To fulfill my responsibilities, I have to travel distantly to meet my clients.
In case you start criminal proceedings against me, I may not be able to execute my duties. Consequently, my job will be lost and I know well that the power of decision rests with you.
I apologize for my actions and want to state that I am the only earning hand in my family. If I am sentenced to prison, my family will suffer a lot. I promise not to be involved in such kind of action again. Please consider my apology request before making any decision.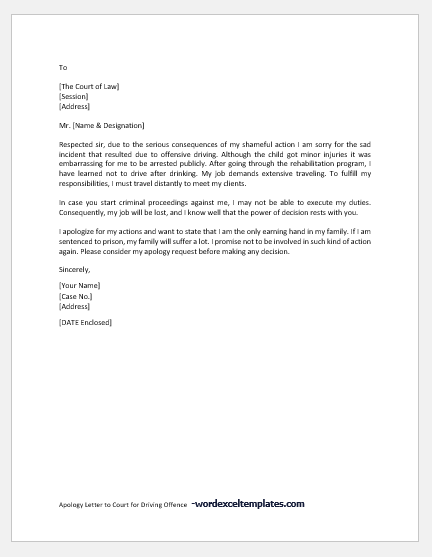 Sample #5
I hereby convey my sincerest apology to the court for the inconvenience caused by my rough driving. I am remorseful and take full responsibility for my serious driving offense. Rules are meant to be followed by everyone, regardless of their social status. You have full rights to take legal action against me because I was driving at high speed on the eve of new year's night.
Meanwhile, my vehicle became out of my control and hit the barrier outside the police check post. It was embarrassing for me to be arrested in front of my friends and family members. Please give me another chance to prove myself. I endeavor not to involve myself in such a heinous act. Thank you.
Sample #6
Although I have no excuses to defend my abominable act, still I regret my reckless and offensive driving. I take full responsibility for my action and acknowledge that nearly twenty people became hurt as a result of hitting my car. I have earned a bad name for my family's reputation and let them down before society.
I am horrified after thinking that my actions would have taken any passerby's life. You can give me another chance to prove my worth because I have never been involved in any criminal record. Considering this fact, please let me know anything I can do to eliminate the chances of punishment.
See also: