REFERENCE LETTER FOR STUDENT
A reference letter is written to introduce a person. Student reference letter explains the character, honesty, abilities, interest, and skills of a student. The letter is commonly used in a situation when the character of an individual person is being assessed. It also confirms all the details about the circumstances of an individual.
A student reference letter can be very much beneficial for both admission committees and the scholarship award authorities in the process of decision making. When students need to get admission in the desired colleges then the reference letter will be very worthy for them as it would give them an extra boost.
The student reference letters usually come from teachers and counselors as they are the people who are more familiar with the student. These letters are personal. When writing a reference letter, make sure that all those projects and assignments should be covered in the letter as this will reveal about your talent and will prove that you are a good candidate. Contact information should be mentioned in a reference letter so you can get a call or message on selection.
The student reference letter should include the school's address, a CV and the name of the person to whom you are writing to. It should also include your department, school's email Id, and the phone number. A student's personal statement should also be attached with a reference letter. The letter should be signed by the student. It must be sealed by the school stamp. Otherwise, write your name and the date on the envelope.
PREVIEW AND DETAILS OF TEMPLATE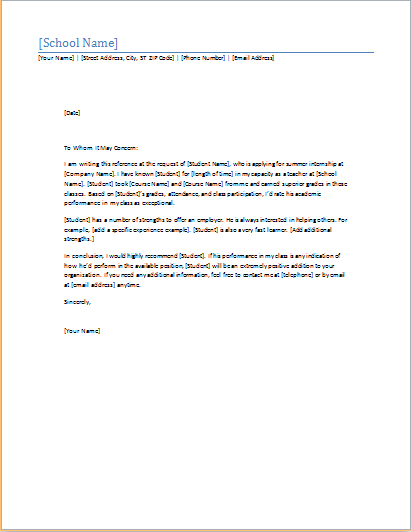 File: Word (.doc) 2007+ and iPad 
Size 28 Kb   | Download
File: OpenOffice (.odt) Writer [Writer]
Size 17 Kb   |  Download
License: ENERGY  (General Use)
(Distribution) by Kate Elizabeth(CEO)