Re. Technical Training of the Staff Above Grade- AD-V Proposal Letter
Dear Client, I, the [Name of the designation], at [Name of the Institute], am very excited to write a proposal to you on the training of your staff. Each organization wants to upskill its employees and workers regularly so that they can match the competitive market and adapt the latest skills and knowledge for work. However, this task can be made easy if you find an institute worthy of spending time and money on staff training.
[Name of the Institute] is an institute of widespread fame known for providing technical assistance to organizations, especially in the field of IT and Marketing. Our organization has been providing its services since 20XX. We are tagged with many renowned projects for various well-reputed organizations and IT firms. We provide tools and training for the organization's staff; both beginners and experienced.
In this project, we will provide technical training to your staff and educate them on the changing trends of the market in IT and Marketing. The project is limited to providing classroom training, therefore, evaluations can be done separately if required.
Moreover, we will provide necessary reading material and assistive notes for the training. Experts from our IT section will train your employee for a future prospect perceived to be totally different. We will provide real-time solutions and assist you in achieving your goals through this training.
After completing this training, your employees will demonstrate the latest knowledge related to IT, solutions, and software management. They will have tools to operate different software and operate them effectively. However, the technical training will provide them with extra assistance, and shall remain in contact for the next month after the training ends to provide solutions for any problem that halts them from operating newly launched software.
The cost of the training can be negotiated and is prone to further narrowing of the requirement. Please schedule a meeting if you want to proceed with the proposal further. Thank you.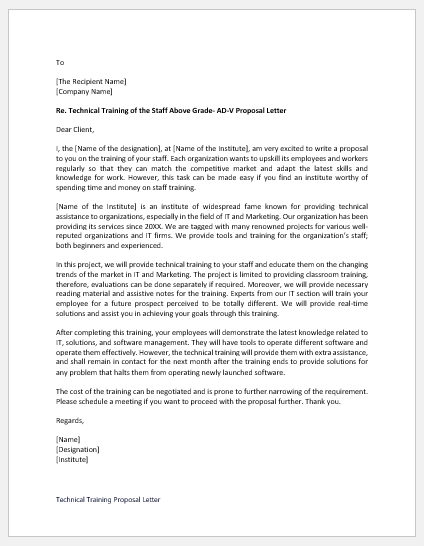 #2
Subject: Technical Training to Staff Proposal
Dear Client,
We are living in an era in which we don't need to work by ourselves but need to educate ourselves to get the work done through AI-powered tools and automation. With the changing trends and increasing demands, companies are concerned to update the outdated trends and skillsets of their employees. To combat this, many organizations get training from external sources to upskill their employees and get the work done impact fully.
We are a team of professionals who provide quality and value-added services to our clients by providing solutions and necessary training sessions to their employees. Our services are specifically pivotal to providing training sessions to the employee.
Be factual and provide data about the training sessions and what else is included in the training. Inform your client how your services align with their specific interest. Also, showcase your services in a client-oriented approach in this paragraph].
This technical training session will be [x] days long and will cost you $[x] which includes all expenses and certification at the end of the session. However, we are open to negotiations to discuss more about the requirements and expenses of the session.
If you have any questions, please reach out to our client coordinator at [email address] or call at [phone number]. If you want to have a more personalized and narrow idea of the project, I will suggest scheduling a meeting at your convenience where we can discuss further through demonstrations and presentations. Thank you.