A salary increment letter is a letter of request written by an employee. In this letter, the employee addresses the Human Resource Department or the employer and highlights his achievements, performance, and hard-work and explains why he deserves a raise.
If an employee has not been given a salary raise over a long period of time, he can write this letter and request the raise. In addition, after the end of financial year, when the performances of employees are evaluated in terms of target achievement, hard-work and punctuality among other things, the employees with good performances expect an increment and if they do not get one, they can request by highlighting their performance.
There are different formats for writing a salary increment letter depending on why an employee is asking for a raise. For instance, if an employee has not received a raise since long, he would highlight his achievements and performance over a period of time.
On the other hand, if the employee thinks he deserves a raise after a financial year, he would mainly focus on his target-meeting and other achievements of last year.
In whichever way the letter is being written, when writing such a letter, there are certain things which are to be included to make the request worthy of approval.
Tenure
Accomplishments
Performance
Loyalty and determination to succeed
The reasoning behind the request
Kind of salary raise expected
There is no need to be afraid of requesting a raise if an employee thinks he is worthy of it. However, when writing a salary increment letter, an employee should avoid a complaining attitude. In addition, the right time should be chosen for the request to be made.
Sample Salary Increment Request Letter
Date
Name
Address
Dear Mr. Steven,
I, Smith John, have been working with your organization for the last five years. I joined in as 'HR officer' and got promoted two years later as 'Assistant Manager HR' along with the increment. I have not received any salary raise for three years.
I have been working hard and delivering the results by optimally meeting the targets and the deadlines. In my current position, I have managed various projects and increased the overall productivity of the HR department by 12% over my tenure. In the last two financial years, I exceeded my targets by 7% and 9% respectively.
My HR manager often compliments me for my excellent communication and team-work skills. I have never been hesitant in taking up any tasks or added responsibilities. I am attaching my evaluation letters over past 5 years with this letter.
I am not satisfied with my current salary and I believe that I deserve a better salary than that is being provided to me. I have been serving this company and contributing to its overall performance and success. My current salary is 10% lower than the industry average (Payscale.com) for this position. In addition, my salary is not equivalent to or sufficient for my current responsibilities.
I request you to look into this matter and increase my salary by at least 8% to $43,200 per year. I look forward to your positive reply.
Regards,
Smith John.
Preview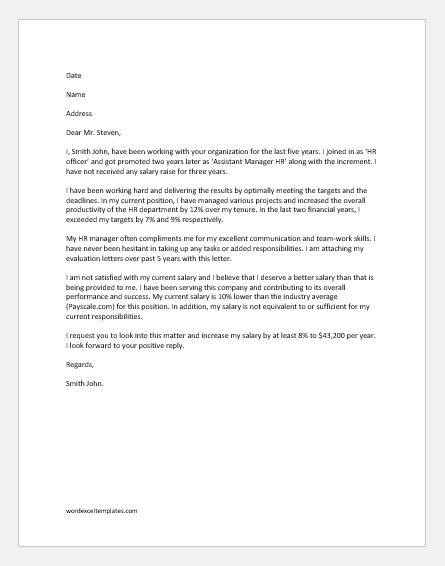 MS Word [.docx] File | Download