A medical leave message to the boss is a brief message that is written and sent by an employee, in which he addresses his boss and informs him about his medical leave. This message is like a short medical leave application, that mainly explains the duration and reason behind the medical leave. As a teacher or instructor is a sort of boss to the student or trainee, the medical leave message can also be sent by a student to his teacher as well.
Leave forms
Usually, the companies have medical leave application forms, that need to be filled in by an employee who is seeking medical leave. However, other companies may even accept a message as a notification of an employee's medical leave. This message can be sent as a
Text message.
WhatsApp message.
Skype messages, etc.
The choice of the platform depends mainly on the company policies and the employer's acceptance. The included information in the medical leave message to the boss may vary, but generally, the following details are included:
Name of the employer.
Name of the employee.
Request for medical leave.
Reason for the leave.
Duration.
Gratitude.
Other important information
Salutation.
Informal text messages
This text is an informal message, so the text language could be a little casual. However, it is being sent to the boss and may be kept in the record for any reference. Therefore, it needs to be written in a tone that is not condescending, imposing, or rude. The usage and choice of the words should be such that the boss should feel that the employee is requesting medical leave, and not just informing him.
Usually, the employee submits a medical leave application with other documents, such as a doctor's note, prescription, etc. However, as this is only a brief message, it is sent only as a notification, and may or may not be followed by a submission of a formal medical leave application.
Sample 1:
Dear Mr. Adam,
I am having a severe backache since yesterday, due to which I will not be able to attend the office today. I have a doctor's appointment today, and hopefully, the medication would allow me to come tomorrow. Thanks for your understanding.
Regards,
Steven James.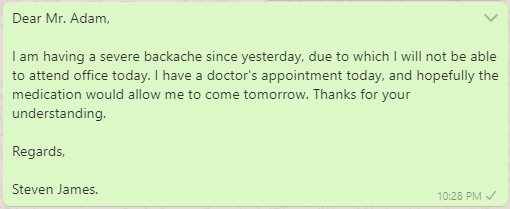 Sample 2:
Dear Ms. Emily,
I cannot come to work today. I was suffering from a severe headache last night, so I took a sleeping pill and woke up now around 2:00 p.m., but the headache is still there. I hope you understand and accept my one-day medical leave. I will see you tomorrow.
Regards,
Sarah Watson.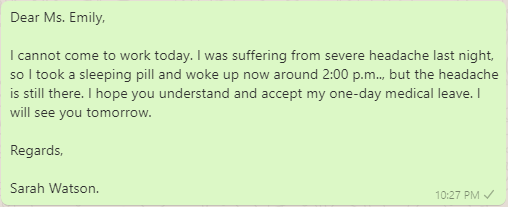 Sample 3:
Dear sir,
I applied for a medical leave for two weeks starting from the day after tomorrow, i.e. 25th October 20XX. It has been approved, but due to some emergency, I want to request you to start my leave tomorrow. Originally, it would end on 7th November 20XX, but I will return to the office on 6th November 20XX. I will be highly grateful. Thanks.
Jennifer Will.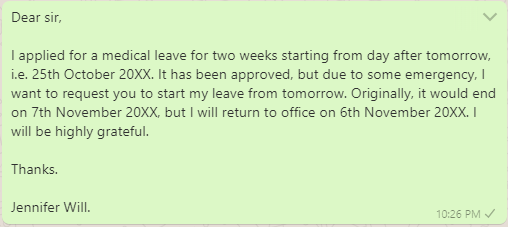 Sample 4:
Dear Ms. Sarah,
I am having a high fever since yesterday. I will not be able to come today. I am sorry for the last-minute notification. I hope you understand. Thank you.
Regards,
Steven Smith.

Sample 5:
Dear Ms. Monica,
As you know I am eight months pregnant, my condition remains quite unpredictable. I got up in the morning and started getting ready for work, but I started feeling nauseous, and the vomiting has not stopped since then. I do not think I will be able to make it today. Please accept my medical leave for today. Thanks.
Regards,
Emma Will.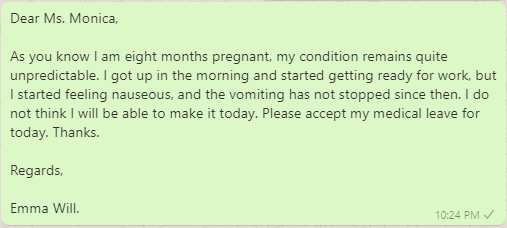 Sample 6:
Dear Mr. John,
I am unwell and will not be able to come to the office today. As I do not have access to my office email from home, kindly, forward me any critical or urgent email to my personal account [X], and I will reply to that. Thanks for your cooperation.
Regards,
Ross Aniston.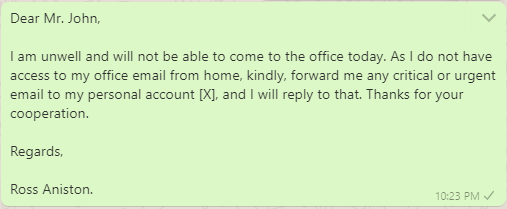 Sample 7:
Dear sir,
I am having a severe stomach infection since last night when I ate out with my friends. I am taking medicines, but still I am in a lot of pain and discomfort. Kindly, grant me a two-day medical leave. I will be submitting the formal application once I come back. Thank you so much for your understanding.
Regards,
Sheldon William.