What is hotel feedback form?
One of the major things that the management of the hotel should do is getting the customer's feedback on regular basis. There are different ways by which the management of a hotel can get the feedback about the services provided by the hotel such as social media, through the staff, face to face conversation and many others. One of the most effective methods of getting the feedback is the use of feedback form.
Benefits of feedback form:
The feedback forms provide an opportunity to customers to provide the suggestions about hotel service. With the help of this form, the hotel management can get instant feedback from the customers about customer service about the cleanliness of Hotel, the general atmosphere of the hotel, the selection of menu, the quality of food etc.
This feedback form also known as customer feedback card will provide you both positive and criticizing remarks about the services of a hotel that will be very beneficial for you if you are interested in improving the services.
The hotel feedback also helps the manager of the hotel know what's wrong with the current system of your hotel. In the form, you can ask your customers to give the overall experience of the hotel, the quality of food service, ambiance and a lot more. Many hotels also use the feedback card as a marketing tool.
These forms are very useful because they are easy to handle and very inexpensive. Make sure that you are implementing the use of feedback form in your Hotel honestly. It is important to have a look at the information that your feedback form is collecting. It should also be ensured that you are using that feedback card to improve the potential activities of the hotel and the performance.
The management of the hotel can easily collect the information from the customers and can understand the thoughts of the customer about the hotel.
The feedback form should be prepared in such a way that it is able to collect the information about the customer such as his name, email address, postal code and other details.
Preview and Details of Template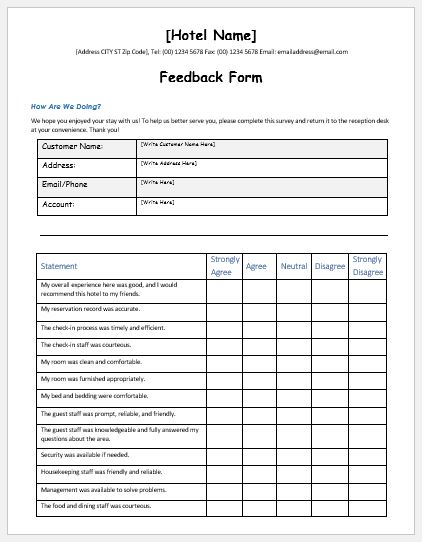 Hotel Services Feedback Form Template
File: Word (.doc) 2003+ and iPad 
Size 39 Kb | Download
[Personal Use Only]
---