Payroll correction form
Payroll is the major component of every company because it is the most frequently used piece of paper. It contains the complete information about each employee working in the company which is the reason it is a vital document in use.
It contains the details about the payment that every employee working in the company should get. In other words, it is a document that contains the details of the employee regarding his salary, bonus, increment, discounts, deductions etc.
Importance of payroll:
From an accounting perspective, a payroll is a document which is used to keep the record and track of all the income generated by each department of the company. This is an important task because the income of the company is subjected to rules and regulations such as taxes.
From the perspective of an employee, the payroll is such a document that contains the details about the salary of the employee. He also checks if there is any error or irregularity in the payroll. It is very important for an employee to make it sure that there is no error in the payroll.
What is payroll correction form?
The payroll correction form is used to get the correction on the payroll in an organized and timely manner.
When to use the payroll correction form?
The correction forms are used by the employees when any type of mistake in calculation or in typing is noticed in the payroll document. The most common use of this form is when the employee sees any irregularity in the form. The main purpose of submitting this form can be the missing amount add to the salary.
The request for change can also be made when an employee wants to bring any change in the information that has been incorrectly provided in the form.
Key elements of the payroll correction form:
The main components of this correction form are:
Name and contact details of the employee
Type of correction
Amount which is required to be changed
The signatures of the employee
Explanation for change
Employer's signatures
Preview and Details of Template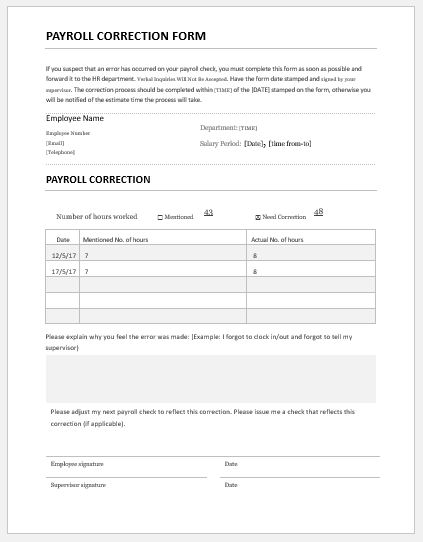 Payroll Correction Form Template
File: Word (.doc) 2003+ and iPad 
Size 39 Kb | Download
[Personal Use Only]