Training of employees is very important in almost every organization. The performance of a trained individual is much better than the individual with no training. In order to improve the performance and skill level of the employees, every company conducts training sessions.
These sessions are helpful for an organization in training the employees about the use of the company's equipment or some skills regarding the job.
The announcement for the employee's training session is written to inform them about the training session going to be commenced in the company.
The announcement letter or memo includes all the details regarding the training session such as venue, timing, and reasons. The learning outcomes of the training session should also be discussed in the announcement letter.
It is important for you to instruct your employees about the training session if there are some special instructions to be followed. Your employee should know the potential benefits he will avail after attending the training session. This will develop his interest in getting trained.
The training sessions are conducted to make the trainee get the necessary skills that will be very beneficial for him in his career. Many organizations want their employees to be competent and skilled. For this purpose, they often arrange training sessions.
It is important to announce the commencement of the training session so that the maximum number of people can attend it. The best way to announce is to write a memo or an announcement letter.
Tips for writing the announcement:
Make sure that you are clear and easy to understand while you are making the announcement regarding the training session.
The announcement should be concise so that the reader can readily understand what you are talking about.
The type of training should be discussed in the announcement.
It should be mentioned whether attending the training class is mandatory or not.
If there is any special preparation needed for the training class, state it clearly in the announcement.
The refreshment details should also be given in this announcement.
The name of the trainer along with qualification and skill level should be written in it.
Sample Notes
#1
Dear employees, please note that from [mention date] your training for [XYZ] is starting. It will last for a week and will be conducted daily for two hours from 11 am to 1 pm. It is compulsory for all the employees to attend it. Make sure to reach training class on time as latecomers will be dealt with strictly. If the training schedule is colliding with your important work, then let your supervisor know about it. We will try to compensate you with a relieved schedule. Any queries regarding this can be asked in response to this message. I hope you all will be excited after the training session news. 
#2
Dear Steward, we are honored to have a talented and efficient employee like you. No doubt, you are performing exquisitely but there are some areas where you are lacking. This message is going to cover those areas too as I am going to make an important announcement.
As you are a new addition to our organization, it is part of our policy to provide you with complete training in our work nature. With this training, you will learn managerial skills to accelerate your work productivity. The training will be held two days a week on alternate days and it is imperative to attend it. You need to bring your laptop and other stuff to note down important points. You are welcome to ask any question. We want to be on long terms working relationship with you as we have high hopes for you. 
#3
This is to bring to your notice that we have arranged five days training session on [mention date]. It will start from 9 am to 1 pm followed by a half-hour break. No one is allowed to miss the training as it will impact your monthly progress. We circulated a pro forma among employees to tell us about their weak areas.
We have studied it minutely and have decided to discuss those points that will address all your problems. All employees must wear their employee cards and come with a proper dress code. We will provide you with a comforting environment and you will be allowed at the end of the session to ask any business question. I wish you the best of luck in future ventures. 
#4
Hope you all have been doing well. With this letter, I am announcing a three days training program for ABC Company's employees. Mr. Jackson, CEO of Arnold Associations is organizing this session to make you aware of modern-day requirements. You need to be vigilant throughout the training as it would be of great help in your future work. You will be awarded a certificate for successfully completing the training.
All the important information has been uploaded on the company's official website. Our aim is to see our employees excel in all fields. This is a golden chance for you to ameliorate your expertise and pullulate with us. 
Sample Letters
The company has arranged a short training session for the employees on how to use the latest features of Task Compiler & also if someone is not much acquainted with certain functions of Compiler operating system, s/he can learn the function without hesitation.
A representative from the company [name of the company] will be on influence in the conference room to elucidate the new configurations of the software. He will also be answering your questions on Monday, July 11, at 2:00 p.m. The setting will be held on a continual basis at the same time every Monday for this whole month. We want all of you to attend one of these assemblings.
We will also study in these classes how to benefit from the hard drive, display type, wireless connectivity & operative system, etc. including several other new functions. This drill will not be frequent after August 2. Please be equipped to take notes to have them with you whenever needed during your work afterward. Thank you!
Preview and details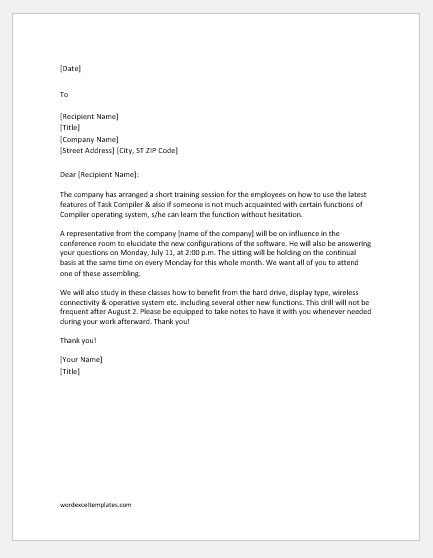 See also: