Coaching classes are important and help people advance their skills further. They include activities like education classes, sports coaching, improving art skills, etc. If you want to become better in your field you can take part in these classes. A coaching institute needs to have a way to let people apply.
What are the coaching classes' admission forms?
A coaching class admission form is the form that all applicants need to fill in to be allowed to take part in the class. They should be made carefully so that the applicant can fill it in easily.
Importance of coaching classes admission forms:
These forms are needed so that applicants can see what background education and skills are required for the class. They can then apply accordingly and decide if the class will help them out.
With this information, the administration decides whether the pupil will benefit from the class and need it. The form is proof in case the applicant has lied about certain information that is found out later on.
Tips to create coaching classes admission forms:
You need the form to include all relevant details. Considering this the following tips will help you out:
Application– Select the application to use to make the form in. Microsoft Word is excellent here because it will help you make something professional. Choose a good and readable font that is not a childish and playful one. The form has a formal format.
Information about the class or institution– The class will be held in an institution and the information details of this must be given. The logo, address, phone number, email is helpful in case the person wants to contact someone here.
Office purposes– Often these forms have an area for office purposes specifically. State this clearly and include the points needed here. It can be a branch, batch, roll number, etc.
Heading– Give it a heading allowing people to know what it is for. "Coaching classes admission form" or write the name of the class specifically, like English, Math's, etc.
Photograph– Admission forms usually have an area where the picture of the applicant will need to be pasted. Make it the correct size for the picture.
Important details– Some details include what the applicant is registering for, branch name, date of starting class. Points about the candidate like full name, father's name, father's occupation, gender, date of birth, mobile number, email, address for communication are necessary.
Educational qualifications– A table can be created for this to be added. It will be easy for the applicant and the reader. The course or degree, college, university, year of pass, marks are required. Often institutes ask whether the person has studied at the academy before. Think about any other points and give them.
The form must be simple to use having the correct amount of space with every entry. It is annoying and tough to fill in as well as read when writing is squashed because space is less.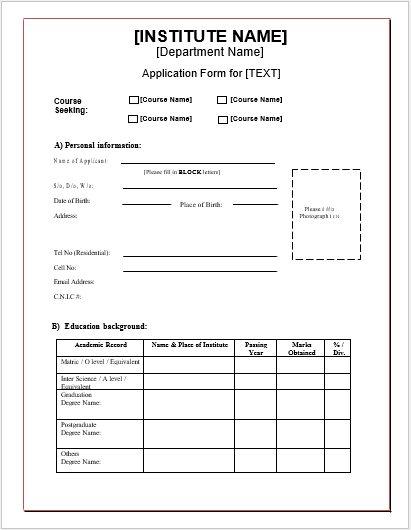 File: Word (.docx) 2007+ and iPad
Size 31 Kb
Download
---