The land use can be of different types. It can be for residential use, commercial use, transportation use or a farmland. The government of all countries has some rules and policies for the selling and purchasing of land property for all these land uses.
Acquiring a land or property needs a lot of formalities. These formalities are important for future concerns. An interest in buying a piece of land can be of different reasons. One can buy for spreading his chain of outlets, for setting an NGO, and for personal need. The letter of intention serves as a means of starting communication between the tenant and the landlord.
Before acquiring a piece of land, one must investigate regarding its legality. An illegal land brings a lot of trouble if acquired without investigation. The relevant signatures needed in the contract must be authentic. Many times it happens that fake landlords deceive on selling the land. So, all the possible measures must be taken before the final deal of purchasing the land. A good knowledge and sound precautions can save from future regrets.
An application letter for land acquisition describes the reason for interest in the land. It can also contain the queries about the payments mode, amount charged. The reason for purchase must also be mentioned. The details of both the parties must be mentioned. A request can be put for some meetings and discussions. A prompt response can be desired in the letter.
The Letter
The purpose of writing this letter is to inform you that I am interested in buying a land you own. I want the land for built-up drives. I want to build small homes for the poor families to lease or sell them out for very little monetarily benefit. I have also submitted an application to the town council. I am quite hopeful that the council will contemplate it favorably.
I anticipate that you would be kind enough and provide an answer until May 15, 2018. If I do not get an affirmative reply afore the date mentioned, I will have to consider that you are either incapable or reluctant to support me in within the time-honored agenda. I will then discover other operative means of retrieving and obtaining the land for the desired resolution.
I would be highly thankful if you take consideration of my request. I am looking forward to your affirmative response.
Preview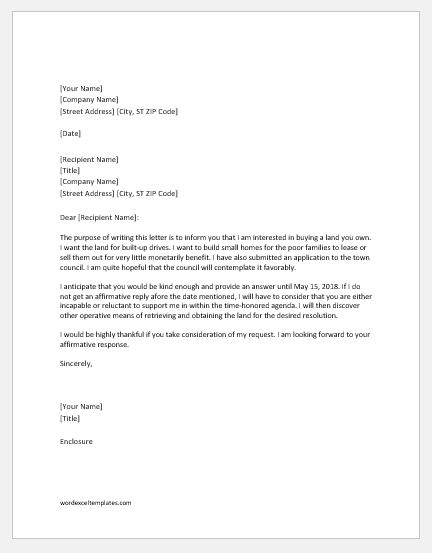 Letter format: MS Word
Layout: Letterhead