Little words of appreciation and small acts of love don't make a difference in you…. but they do so in someone else life.
Anyone who performs well in any activity or field must be presented with a reward or certificate of appreciation for his or her efforts. This good performance certificate acts as a way of encouraging people to participate in such competitive activities.
Various methods and tools are used for providing an appreciation for the efforts of others. One such document is the well-done award certificate. This document is used widely in various walks of life to provide people with an appreciation certificate or reward.
The well-done award is an effort to support the thoughts of appreciation and especially at a time when it is needed the most. To make your own professional looking certificate you need to download the sample template from the internet. This is widely available and an easy-to-use document that can really make your life easy.
The well-done award certificate template can be used by schools, educational institutions, training centers, and universities. In addition to these, the template may also be used in business entities and organizations to reward the positive efforts of their employees and staff members. It is considered to be a very effective tool for enhancing the motivation of the employees to do more.
It also encourages others to compete and strive to perform their best in various activities. You can use the template in various situations and make necessary modifications if needed the most. It is easy to use and simple in format. Anyone can use it effectively.
Preview and Details of Template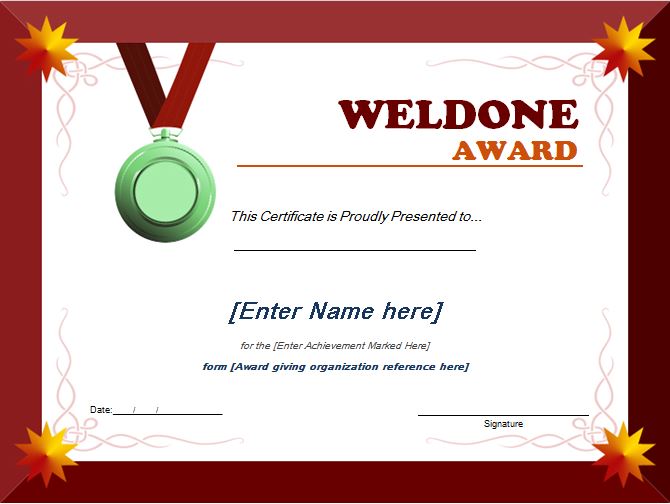 File: Word (.doc) 2007+ and iPad Size 183 Kb | Download
File: OpenOffice (.odt) Writer [Writer] Size 183 Kb | Download
License: ENERGY  (Personal use only)
(Distribution) by Kate Elizabeth(CEO)
---
Certificates of appreciation are used by different organizations (schools, offices, universities) to acknowledge other's success, or show appreciation for their efforts as money is not always the most effective reward.
Small deeds of kindness and small words of appreciation not only boost an individual's morale but also give the strength and motivation to work even harder than before.
For instance, when a teacher inspires, produces hope, ignites the imagination and love of learning in a dull student his morale went high and he works even harder and better than before to meet his teachers' expectations same is the case with the employees working in a hectic environment. You just need to be a little kinder than necessary to make a positive impact on the employees.
These appreciation certificates are a wonderful thing as it makes what is excellent in his employees belongs to the company as well. When an employee or individual is appreciated he will always do more than what is expected from him.
In a working environment, it's not the tools and techniques you have faith in –tools are just tools- they work, or they don't. It's the employees you have faith in or not. If you don't show appreciation to those that deserve it, they shall learn to stop doing the things you appreciate.
These appreciation certificates can be a powerful tool when used at the right time and presented in the right way to the right person. The best time to give these certificates is at the annual meeting of the company shake hand and personally congratulates the recipient, at extraordinary work done by an employee, at good behavior of a student, or at course completion.