Having a financial loss is normal for a company. However, sometimes a business has to go through a financial loss because of its workers. This is not acceptable by any business as employees are hired for making a business flourish. It is never expected from them that they can cause loss of any type.
It is a formal letter that a company writes to its workers when they become the cause of loss for a business. This usually happens because of the negligence of the employee in his duties.
In general, people in the workplace want to sound professional instead of rude. However, there are some situations when using a strict tone is important. For instance, when an employee has made a mistake and needs to be reprimanded.
This letter lets the employee know that he has made a mistake and this mistake is not acceptable by the company. Therefore, he needs to be careful and make sure that it does not happen again. The strict tone of the employer makes the employee reflect upon his behavior and he can easily see where we went wrong.
How useful is the warning letter?
Employers generally see an improvement in their workers' behavior after they have admonished them for acting in a non-professional way. Employees don't want to lose their job and since the warning letter tells them about dire consequences in the event of repetition of the same mistake, they try to not repeat it.
Sample warning letter to employee for financial loss:
Subject: Warning on causing financial loss
Dear Mr. ABC,
As you know XYZ Company, we have set very high standards for work quality and ethics. We expect our all employees to act sensibly and show no negligence. We have pronounced the policies of the company time and again because we want all our employees to follow them.
I have received an email from one of the clients of the company according to which, your non-professional way of dealing with them has compelled them to close the deal with us. Due to your careless behavior, we have lost a very valuable and loyal client. In addition, the deal we were going to strike with them was worth our time and investment.
I have apologized to that client on your behalf and ensured that this will not happen again. However, he does not seem to get our services again. Due to your negligence and inappropriate communication tactics, we have gone through a financial loss. For now, the company will try to compensate for the loss itself. However, you will be responsible for the consequences if the financial loss happens again.
Please consider this letter as a formal warning letter from XYZ Company. If you have anything else to discuss regarding this matter, you can write back to me or request me to organize a meeting with you. I hope that you will be careful next time.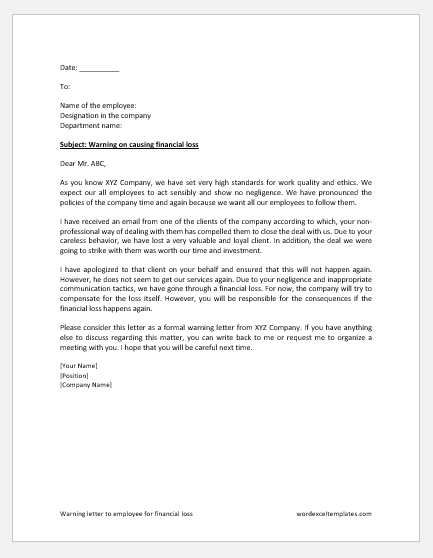 Sample letter 2:
Subject: Warning on causing financial loss
Dear Mr. ABC,
Please find this letter as a formal warning letter for you because of causing a financial loss to the company.
It has been brought to my notice that you have not been working with diligence and attention. I ignored several complaints against you but, I am compelled to write this warning letter to you because of the financial loss the company has faced because of you
It is your responsibility to ensure that the products are well packed when they are transmitted from source to destination. Many customers have returned the products because they were broken when they received them. The company has to send them another product which has led to the loss of 1000$ in one month.
This kind of negligence at your end is never expected. You will bear serious consequences if you do not act according to how you are advised. I hope that you will improve your behavior.