A warning letter is being issued to the employee for his unethical behavior which was totally unacceptable for the organization. The main purpose of using this letter is to correct the violation of laws by the employee. The warning is an indication to an employee that if he continues behaving unprofessionally, the company will have to take serious action against him. The letter is written for all those people who behave immorally, and they have no reason for it.
Any employee is given notice before the warning letter so that he becomes aware of the situation. In some organizations, a meeting is conducted in which the employee is given another chance to improve himself. If the employee continues his non-professional behavior, then an organization has a right to issue a warning letter to him.
The unacceptable behavior may include the following things:
Use of offensive language at work
Threatening someone
Showing carelessness in the work
Bullying
Offensive gestures
Not attending the most important meeting that is conducted in an organization
Remaining absent from work without any solid reason
Providing fake documents for getting days off from work
A warning letter is a formal letter that includes a statement describing that the organization has reviewed the bad behavior of the individual on a specific date. The letter clearly describes the whole incident, and the answer given by the employee on that incident is also included in the letter. The reasons for considering the employee's behavior to be unethical and unsatisfactory by the company are also mentioned in the letter so that the reader can understand why he is being warned. The letter must state that if the employee does not bring any improvement in his behavior, the organization will have the right to expel him from the job.
A template for warning letters is available on many websites. This template is a readymade warning letter. You are only required to edit the details in the letter and print it. It is the best template for those who want to save their time and money.
Sample Letter Note
#1
Dear George, I have been receiving many complaints against you for your unacceptable attitude. This is a last reminder to you to please behave gently with your teammates. To continue this job, you need to improve yourself. You will be given no warning after this and will be fired immediately from the job.
There are some rules and policies of the company and you have to abide by them all. I am hopeful you will start improving yourself after this warning letter. For some time, your performance will be kept under observation and this will determine your further position in the company.
#2
This letter serves as a warning to you as the circumstances were getting out of control. You are consistently showing unethical behavior with your colleagues and manager. Not only in office premises but also you are caught behaving out of the way outside the company. One of your teammates has shown me your group chat where you are using vulgar words.
Dear Steward, your profession demands manners and professionalism which you are lacking. You need to focus on your weak points and get yourself corrected. If I again receive such a complaint against you, then you will be expelled from your job without any prior notice. I hope you will take this warning seriously.
#3
This letter is in response to your unacceptable behavior at the workplace and serves as a warning. I got very saddened to know that you are losing all the manners of behaving politely with your colleagues. You cannot continue your job behaving unethically. Your behavior with female workers is discreditable. I am giving you a last warning to correct yourself. If I receive such a complaint against you in the future, I will take strict action against you. I hope you will consider this warning and will change yourself.
#4
This is to inform you that you were under observation after I received many complaints against you. You were accused of screaming loud and yelling for no reason. I have got disappointed after seeing your actions during these days. You do not listen to your supervisor. I was not expecting this from you and we do not allow our employees to misbehave with others. There will be no room for you in the company if I find you doing the same next time. Take this message as a last warning and strive hard to regain your lost position in the company.
#5
I am sending you this warning note on account of multiple complaints against you. You have been given many verbal warnings but you did not listen to it. Our organization wants its employees to strictly adhere to its policies. We treat all employees equally and want them to respect each other.
A healthy environment for the company is possible only through cooperation and you are breaching the company's rules. I strictly warn you to correct yourself and maintain good relations with your colleagues. If the matter reaches to CEO, then you will be expelled promptly.  
Letter Template
Preview and Details of Template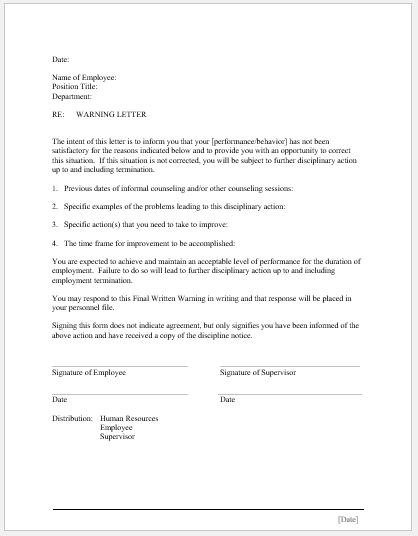 File: MS Word (.doc) 2003+ and iPad
Size 44 Kb