A warning letter is being issued to the employee for his unethical behavior that was totally unacceptable for the organization. The main purpose of using this letter is to correct the violation of laws done by the employee. The warning is an indication for an employee that if he continues behaving unprofessionally, the company will have to take serious actions against him. The letter is written for all those people who behave immorally, and they have no reason for it.
Any employee is given the notice before the warning letter so that he becomes aware of the situation. In some organizations, the meeting is conducted in which the employee is given another chance to improve himself. If the employee continues his non-professional behavior, then an organization has a right to issue a warning letter to him.
The unacceptable behavior may include following things:
Use of offensive language at work
Threatening someone
Showing carelessness in the work
Bullying
Offensive gestures
Not attending the most important meeting that is conducted in an organization
Remaining absent from the work without any solid reason
Providing fake documents for getting days off from work
A warning letter is a formal letter that includes the statement describing that the organization has reviewed the bad behavior of the individual on a specific date. The letter clearly describes the whole incident, and the answer given by the employee on that incident is also included in the letter. The reasons for considering the employee's behavior to be unethical and unsatisfactory by the company are also mentioned in the letter so that the reader can understand why he is being warned. The letter must state that if the employee does not bring any improvement in his behavior, the organization will have the right to expel him from the job.
A template for warning letters is available on many websites. This template is a readymade warning letter. You are only required to edit the details in the letter and print it. It is the best template for those who want to save their time and money.
Preview and Details of Template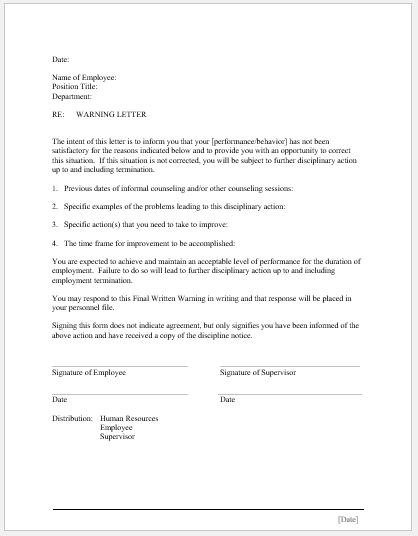 Warning Letter for Unacceptable Attitude
File: MS Word (.doc) 2003+ and iPad
Size 44 Kb | Download