Remembering different appointments along with lots of other things is a hard task. The easiest and most convenient way to remind the people about the appointment is to use the appointment card. Appointments are very important to be remembered. They are not like other meetings that occur on a scheduled time. You may come across many situations when you will have to give the appointment without any schedule. Things that occur without following any schedule are hard to remember but they can be memorized if you have an appointment card with you.
An appointment card is a simple card which contains the details such as the name of the person, place of appointment etc.  Some other details of the appointment are also added to this card. It may include
Personal Appointments
Business Appointments
Patient Appointments etc.
You can find a readymade template for appointment on a number of websites. If you are running a business and you must provide the appointment card to your clients, the use of a template can help you a lot. Making an appointment card from scratch can be costly and it will also waste a lot of time.
The template for appointment card is a useful tool especially when you want to save your money as well as time. Any businessman who uses this template can invest his valuable time in running his business instead of wasting it in trying to build a strong relationship with its clients by remembering his/her appointments.
Apart from this, the template also gives a clear idea of a professionally designed appointment card that is required to be used in a business. Because of the lack of familiarity with the appointment card, many people don't know how to prepare one for their business. They also don't know that which details should be added to the card.
The template clears their mind from all the confusions and provides them with a ready-made and easy to use appointment card. Moreover, these templates also provide a customizable feature to the person that enables him to add or remove the details from the readymade template according to his needs and demands.
Preview and Details of Template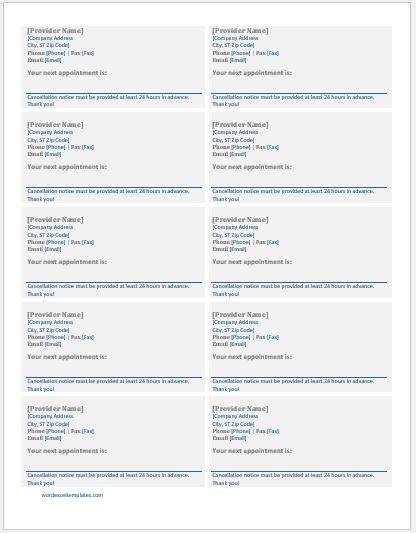 Appointment Cards Template
File: MS Word (.doc) 2003+ and iPad
Size 44 Kb | Download
License: ENERGY [Personal Use Only]
[Not for Commercial Use/Resale/Distribution]