Appointment cards are comprehensive tools for managing customers or individuals in a professional setting. Appointment cards are used by doctors, salon owners, laboratory owners, and other professionals to manage their clients and avoid the rush by providing a particular appointment time to each client. These cards avoid incidents of having too many people at the same time, which can hinder the services provided and prove to be a hassle.
Appointment cards are a portable, credit card-sized document that can easily be carried in wallets and purses. These cards provide useful information to the cardholder regarding their particular appointment and ensure that cardholders are aware and do not miss their appointment. Moreover, it also helps the cardholder secure an appointment beforehand, which saves them plenty of time and also provides time for one-on-one discussions without interruptions.
Following advancing technology, digital appointment cards have been introduced, which avoid the problems of carrying cards around. Appointments at different service providers are booked online through their websites, which provide all the available options and allow you to choose the most convenient one. These websites also assist in making your payments online, securing your slots from the comfort of your home.
Moreover, the personal mobile applications of service providers have made it easier to book appointments. Instead of appointment cards, emails or application reminders are used to be aware of the appointment. Despite all this fancy technology, appointment cards are widely preferred over digital tools because these tools are dependent on gadgets, electronic devices, and electricity, which have the capacity to cripple any individual.
Components of the card
The basic elements of an appointment card are described as follows:
Service provider: since appointment cards are mostly used by service providers, their general information is mentioned on appointment cards. This information includes a name, logo, contact information, social media presence, and related information that empowers individuals to search for service providers.
Appointment details: appointment details usually include timing, location, and the proposed duration of the appointment.
Reason: The reason for the appointment is also provided on the card, so the cardholders can be immediately looked after as soon as they arrive. For instance, at a hairstylist appointment, cutting and styling of hair are mentioned, which helps staff guide and appoint a hairstylist to cater to the needs of the cardholder.
Cardholder information: name, age, contact information, address, and other useful details of the appointment holders are mentioned on the card.
Terms & conditions: The terms and conditions of an appointment may vary from one service to another. These conditions may include:

Appointments can only be postponed for 2 hours; otherwise, the appointment holder loses their slot and should apply for another appointment.

20% of the fees should be submitted to confirm an appointment on a particular date.

Specific requirements: if the appointment holder needs to follow certain instructions before appearing for the appointment, then these instructions are mentioned on the cards. For instance, many patients undergoing ultrasounds are advised to drink water before appearing for an appointment because it helps with easy detection.
Preview and Details of Template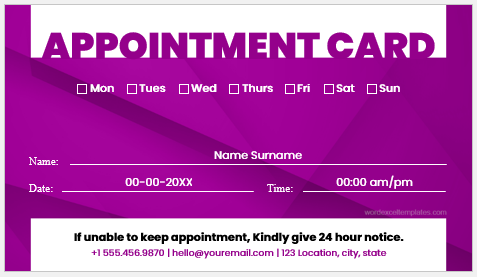 File: MS Word (.doc)
File: 37 KB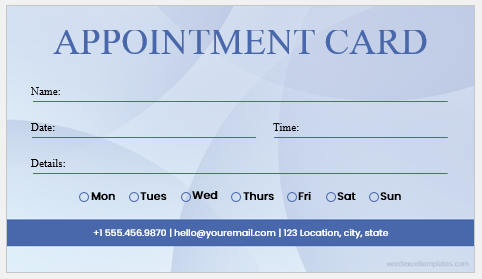 File: MS Word (.doc)
File: 37 KB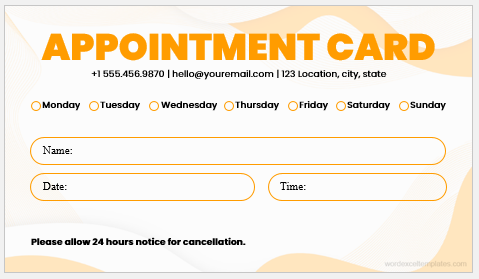 File: MS Word (.doc)
File: 37 KB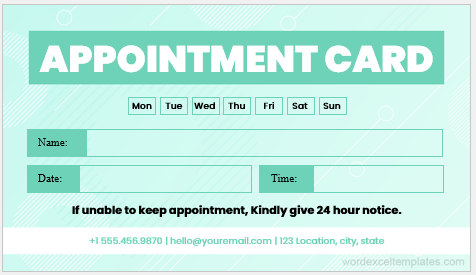 File: MS Word (.doc)
File: 37 KB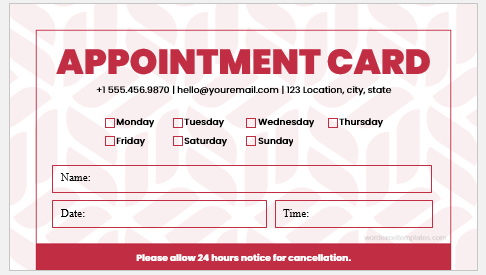 File: MS Word (.doc)
File: 37 KB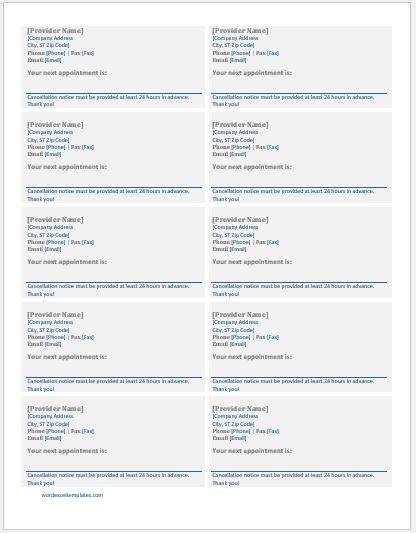 File: MS Word (.doc)
File: 37 KB