What is a time off request form?
The time off request form is a very important document which companies should have. This professional document is mainly a request in which an employee requests the higher authorities to take off on a specific date which he mentions in the form.
The company has the right to either approve it or disapprove it depending upon the company's needs. Moreover, it also helps in the maintenance of the records too.
Mandatory Details:
The mandatory details which should be included in the form are the name of the supervisor to whom the request is being made, the date on which the employee is filling the form, employee's name, and the specific duration or date. One has to mention that he wants the time off from a specific date to some upcoming date.
For many of the prestigious and well-renowned companies, time off is issued to the employee or the officer only when they follow the proper channel and the professional way of getting the leave.
Signature:
At the end of the form, the employee requesting the time off has to sign. In the case of electronic typing, mentioning the employee ID at the place of the signature would do the needful. Afterward, the company would view it and if they find it appropriate and suitable to allow the time off to the employee then they would mark on the approval option else they would mark it disapprove.
Time Off Request Form in MS Word Format:
MS Word software makes it easy to edit, customize & print the document. Important features of this form include
MS Word format:

MS Word software is popular software for document preparation and many people have it with ease. So to DOWNLOAD & print the template with MS Word is much suitable in the circumstances. Moreover, this document can be used in Mobile devices to draft.

PRINT facility:

PRINT the document once you are done with all necessary customization.

Reusable format:

This feature allows the multiple uses of the document. It can be used by all of the employees in one organization.

Professional design:

The design of the template is professional. Don't hesitate to use it in its original format or you can make suitable changes as per your company's need.

Customization:

One of the key features of the document is customization. Feel the ease of printing COMPANY NAME, Employee name, Employee ID, etc.
Preview and Details of Template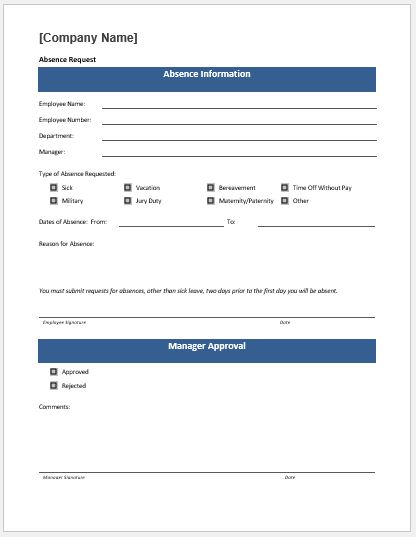 Time Off Request Form
File: Word (.doc) 2003+ and iPad 
Size 23 Kb | Download
[Personal Use Only]