What is Income Verification Letter?
The income verification letter is the document which acts as legal proof and verification of the employee income. It is basically the document which the bank demands from the employee when he made a request to them for a loan, credit card, opening a bank account or for the leasing conditions. Besides bank, it could be demanded by other agencies such as hiring agencies, financial institutions or potential creditors. It is also of great use when the employee wants to make a giant purchase on credit, rent an apartment, applying for a mortgage and much more.
Company Details:
The letter is designed in the official format having the details of the company including the company name, company logo, company address and date on which it is issued. Without these details, the letter is incomplete.
Letter Format:
The basic income verification letter includes the name of the employee, his designation, date of joining the organization and the most importantly the gross salary, which he is receiving from the company for serving them. It is designed in such a way that it contains all the rudimentary details of income and verifies it as well by providing the contact details of the company to either confirm the written details etc, in case if the bank requires or demand it.
Income Verification Letter in MS Word Format:
The income verification letter is the authentic document. We design the letter in a highly professional way that would benefit the companies and organization. In order to download it, simply click on the download button given below.
MS Word file format: Fill all the mandatory details regarding the employee's income in the Microsoft Word format.
Printable: Instantly printable format once you are done with the editing.
Reusable format: Reusable format allow you to fill the details anytime you want. Details can be erased and rewritten.
Professional language: A professional look is maintained for the template.
Customizable: Edit it according to your company's need and policies.
Preview and Details of Templates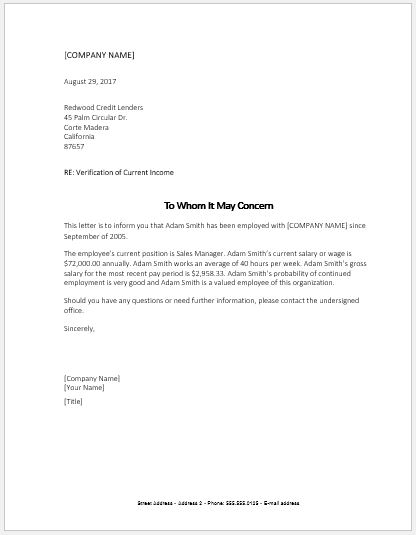 Income Verification Letter SAMPLE
File: Word (.doc) 2003+ and iPad 
Size 23 Kb | Download
[Personal Use Only]