What is sick leave?
Sick leave is a formal document that is needed in order to get permission to be absent from class. This leave is usually written by the student or the parents of the students. The applicant formally informs the teacher about his absence.
The letter can be written by addressing either the class teacher or the principal of the institute. The purpose of writing the sick leave is to provide a solid reason for the child's absence from class.
The dates on which the child will be absent are specified in the leave. Sometimes, the student first gets the verbal leave and then sends the written sick leave.
Tips for writing sick leave to teachers:
The leave should be started with the proper salutation. Keep in mind that your teacher is very respectable to you and you have to show complete respect in this leave. If you are writing the leave to your child's teacher, show gratitude towards him/her.
Write the leave in a very polite and humble tone since you are writing to ask for permission to get leave because of sickness.
Make sure that you write the leave in a formal tone.
The dates of leave should be specified in the leave.
Make sure that there is no grammatical mistake in the application for sickness.
The explanation of sickness should be given in the leave.
Mention your class name, subject name registration number, contact details, and a lot more so that teacher can easily identify you.
Writing sick leave to the teacher is mandatory for students in some institutes. Every student in the class is required to follow the class rules. Following the rules maintains discipline in the institute.
The attendance of a student plays a major role in his performance. Due to this, many institutes demand full attendance of the student. A student may not be able to appear in the exam if his attendance is short. If the student is absent for a genuine reason, he can get permission to leave.
Sample Letter
Dear Miss Megan,
Hope you are doing great.
I am really missing school these days. I am writing this letter to inform you about my health. I have been suffering from a severe fever and cold. During the seasonal transitions, I always fall sick. I try to take precautions to avoid illness, but it hardly helps me. I know it is almost the end of the term and a very important time to be present at school.
I have seen the doctor, who has suggested taking proper bed rest and medication. I have recovered and improved a lot. But even then I will need a week's time to return to school. I have been in touch with my classmates. I have started to catch up on the syllabus covered in the classes. I will also make sure to submit my assignments on time.
Thank you so much for being a wonderful teacher and granting me leave.
With thanks
Anna
Preview and Details of Template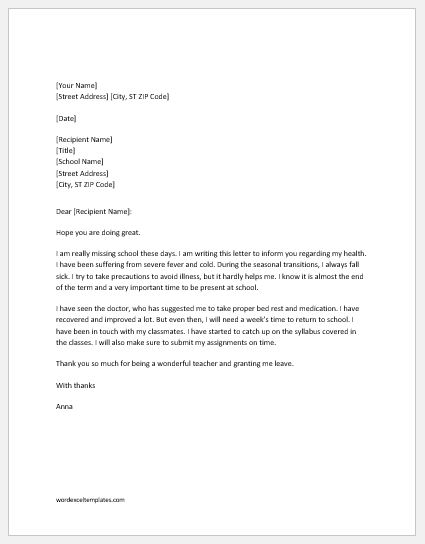 File: Word (.docx) 2007+ and iPad 
Size 32 Kb
More samples
#1
Respected madam, my daughter is a student in grade 5th in your class. This message is to let you know that she is suffering from seasonal flu, cold cough, and fever. She is not in a position to attend school for a few days. The doctor got her checked and kept her on a medicine course. Therefore, I request you to please grant her three days' leave. Thanking in anticipation.
#2
I am Steward Louis, Jonson's father who is your student in 3rd grade. Jonson has not been feeling well as he has had diarrhea since yesterday. He has vomited many times and has become very feeble. He is admitted to the hospital as his condition was very critical. After getting discharged, he cannot attend school for five days. Doctors have also prescribed him complete rest. Thank you for your kind consideration.
#3
Hope you are doing well. This message is to inform you about my son's health. He studies in grade 9th in your school. He was getting ready to attend school today, but unfortunately, he got slipped on a slippery floor. He got sprained in his right ankle and is not in a position to walk. it will take him some time to get fully recovered. I request you to please grant him leave for three days. I would be thankful to you for this favor.
#4
George studies in grade 7th in your school. Today he woke up with a high fever and sore throat. I have given home medication but his condition is still the same. I have booked an appointment for him with a general physician at 1 pm. Therefore, he cannot come to school today. Kindly grant him leave for two days. Thank you.
#5
I am Macdiff's mother and writing this message to take permission for one week's leave for her. I have been noticing changes in her health since yesterday. She remains lethargic and often complains of headaches. She has a high fever today and these are all covid indications. I will get her checked today and if she is covid positive then she will come to school after two weeks. I request you to please allow her to leave for the above-mentioned period.
#6
I am writing this message on behalf of my son Adam who fell from the stairs yesterday. He has got minor injuries and is not in a stable position. He will remain on complete bed rest for a week as per the doctor's recommendation. Along with the injury, he has also a fever and headache. I request you to please accept this message and grant him leave. It would be so kind of you.
#7
I hope you are enjoying good health. Please be informed that my daughter is your student in grade 8th. She has got food poisoning since last night and after water dehydration, she has become very weak. She is on medication and will need rest for two days. I humbly request you to grant me permission for two days' leave.